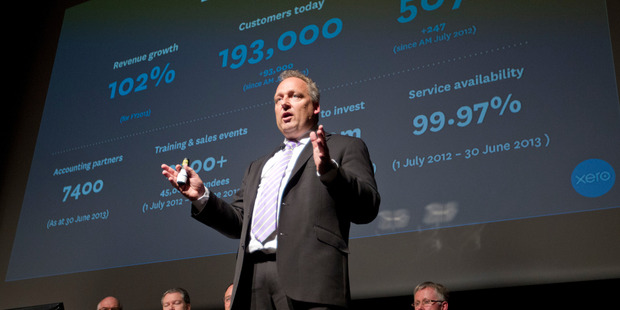 Xero's market capitalisation has risen and then fallen by nearly $600 million in just a few hours, highlighting the stock's volatility.
After opening at $37.30 this morning, shares in the Wellington-based firm surged in early trading, valuing the company at $5.3 billion.
But a sudden shift saw them trading at $36.70 just before 3pm, more than 11 per cent below the all-time-high of $41.50 they hit earlier.
They have since risen back to $37 just slightly down for the day.
Meanwhile, Xero boss Rod Drury says his company would be happy to stay "below the radar for a while" but the profile provided by its rocketing share price is driving sales of its online accounting products.
Xero, which is yet to turn a profit, is quickly gaining ground on New Zealand's most valuable listed company, Fletcher Building, which had a $6.56 billion market capitalisation this morning.
Asked how it felt to see Xero become New Zealand's second-biggest listed firm by value, Drury said: "It's not our goal. We'd like to be the biggest company by revenue and that will be some years away."
Speaking from San Francisco, he said many investors in the United States thought Xero could be "like the Facebook for the small business cloud".
Drury said Xero's appearance at an accounting conference in Las Vegas this week had shown how advanced the New Zealand firm's products were when compared with those of its major US competitor, Intuit.
"There were lots of investors there [at the conference] who were checking us out and the feedback we had was extremely positive."
Drury said the accountants who attended the Las Vegas conference were the conservative segment of America's accounting community.
"The feedback we got was, 'Man, you guys are really nailing this stuff'."
Drury said there were drawbacks to Xero's soaring share price, including the difficulties it caused when offering share options to new employees.
"It [the share price] is a quality problem to have, but it's only really useful when we go and raise money."
Brokers First NZ Capital yesterday put a target price of $45.70 on Xero, saying the business could grow to a $10 billion NASDAQ company within five years.
But First NZ analyst James Schofield said the company came with significant risks and should be seen as a speculative stock.
"They do face incumbents in each of their markets," he said.
Xero shares have gained almost 120 per cent since the company's October 14 announcement that it had raised $180 million of new capital from high-profile investors including Facebook billionaire Peter Thiel.
The company will likely generate revenue of about $70 million this year.
As of September 30, Xero had 211,300 paying customers, up from 111,800 a year earlier.
The company posted a net loss of $14.4 million for the year to March 31, 2013.