Ministers tackling cost of construction want more transparency over benefits tradespeople get for using certain products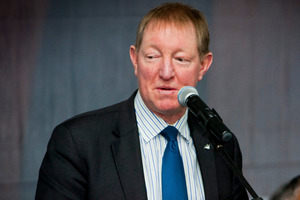 Builders may be forced to disclose any overseas holidays, new vehicles, tickets to sports events and other gifts they receive as rewards for buying building products as part of government moves to drive down building material costs.
Housing Minister Nick Smith and Commerce Minister Craig Foss yesterday released a series of options for cutting building costs as part of the Government's suite of measures to tackle the high price of housing.
The options were released as new legislation was introduced to Parliament to constrain building costs by limiting development contributions paid by developers to councils for infrastructure such as sewerage, roading and water.
Dr Smith said building costs were too high, as much as 30 per cent above those in Australia.
"The industry needs a shake-up through increased competition and greater transparency to ensure Kiwi families can get access to more fairly priced building materials and homes."
Dr Smith had concerns about "a lack of transparency for consumers over what benefits builders are getting from using certain products".
Yesterday's options paper said incentives could include overseas travel, new vehicles or tickets to sporting or other events.
The paper said there may be "features of these incentive arrangements between merchants and builders that mean benefits are less likely to flow through to consumers".
The schemes "may mean that tradespeople don't always have incentives to seek out the best deal for consumers".
Mr Foss said he wouldn't call the incentives backhanders "but what we are consulting on is transparency around issues which may affect the cost and may or may not be passed on to those building a home".
Master Builders Federation chief executive Warwick Quinn said the incentives were loyalty schemes "just like Flybuys".
"We see no problem with that whatsoever."
Other factors contributing to high building product prices identified by a market study this year included high duties and tariffs on some imported building products which were sapping price competition, and red tape preventing the adoption of new products and building systems.
The paper also suggests an online building consent regime to get around slow and unpredictable consenting practices holding back large-scale building activity.
Meanwhile, the Local Government Act Amendment Bill introduced to Parliament this week will set out principles for the use of development charges by local authorities, narrowing the range of infrastructure they can be used to finance.
The charges average $14,000 per section but can be as high as $64,000 and have trebled in the last decade, Dr Smith claims.

Knocking down prices
Housing Minister Nick Smith's concerns about building product prices:
• A lack of transparency for consumers over what benefits builders are getting for using certain products
• High duties on some imported building products
• Limited competition allowing excessive margins by building product manufacturers