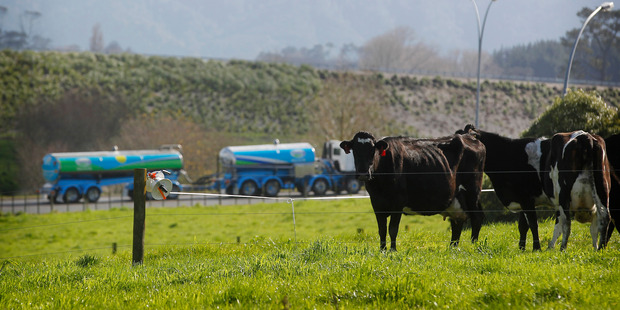 Prices of dairy products fell in the second straight GlobalDairyTrade auction overnight, led by whole milk powder and butter, though the average winning price is still 42 per cent higher than it was a year ago.
The GDT Price Index, previously known as the GDT-TWI Price Index, fell 1.8 per cent compared to the last sale two weeks ago. The average winning price was US$4,797 a tonne compared to US$4,980 a tonne.
The average winning price of whole milk powder, the biggest product by volume, fell 3.7 per cent to US$4,891 a tonne, the lowest since early July, and while butter dropped 7 per cent to US$3,529 a tonne, a three month low.
The auction comes after the ANZ Commodity Price Index, which tracks New Zealand's major export commodities, rose 1.3 per cent in October, to close to just 1.8 per cent below the all-time high set in April.
The benefits for local producers, though, were erased by the strength of the kiwi dollar and the ANZ NZD Commodity Price Index fell 0.6 per cent in October following a 1.1 per cent decline in September. The trade-weighted index was last at 77.12, up from as low as 72.64 in early June.
The total volume of dairy products sold at the latest GDT auction rose to 49,304 tonne from 43,261 tonnes two weeks ago.
The price of anhydrous milk fat climbed 6.9 per cent to US$5,343 a tonne and butter milk powder rose 1.8 per cent to US$4,524 a tonne. Milk protein concentrate rose 4.6 per cent to US$7,738 a tonne. Cheddar gained 1.2 per cent to US$4,380 a tonne and lactose gained 3.2 per cent to US$1,622 a tonne. Rennet casein rose 0.5 per cent to US$9,926 a tonne.
There were 199 winning bidders over 12 rounds. There were 199 participating bidders out of a total number of qualified bidders of 820.