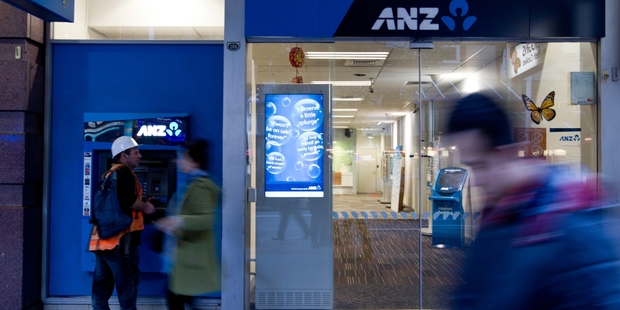 New Zealand's big four banks collectively made more than $3.5 billion of profit in the last year in another record year for the sector.
Profits grew more than 9 per cent on 2011/12 - a boost of $303 million across the ANZ, Westpac, ASB and BNZ.
John Kensington, head of financial services at KPMG, said loan growth, lower funding costs and less pressure in competing for deposits had helped boost the bank profits.
At the same time the banks had also managed to keep a tight lid on costs while holding on to their margins.
"Given the size of these businesses it doesn't take much to boost profits when all those planets align."
Kensington said the profit growth showed New Zealand's banking sector was strong.
"It means they will have money to reinvest in communities through wages, employing more people and their work with community projects."
If the banks were not doing well they would be forced into cost cutting mode, he said.
Kensington said it was also positive the banks were not leaning on the Government in any way and their growth could indicate the New Zealand economy was headed in the right direction.
"It might be starting to show what is going to happen in the rest of the economy. We're hearing cautious optimism from the people we talk to."
As part of a report analysing last year's performance of the finance sector Massey University predicted bank profits would continue to grow but Kensington said that prediction was made before the Reserve Bank announced the cap on low-equity mortgage lending.
Competition for good credit had also increased as banks competed to lend to businesses with the best credit records, he said. "Those two factors might pare back some of the growth," Kensington said. "But by and large the signs are reasonably good for the banks."
Lachlan Colquhoun, head of markets analysis at East and Partners in Sydney, said the ANZ had been the stand-out performer.
"They did the integration of their brand and then won the market share war."
The country's largest bank is in the process of merging its National Bank brand into the ANZ.
But Colquhoun said the performance had been consistent across the banks in what was a low credit growth environment.
The banks were now faced with the challenge of the new low-equity rules and whether that would pinch bank profits.
But he said businesses had indicated they were heading into expansion mode which boded well for the banks.
"Will the growth follow through into next year? The imponderable is what is happening offshore."
Colquhoun said problems in the United States with its debt levels and the move to reduce the amount of money it is pumping into its economy could see borrowing costs rise which would have an impact on both the New Zealand banks and their Australian parents.
"Left to our own devices I see both economies doing well."