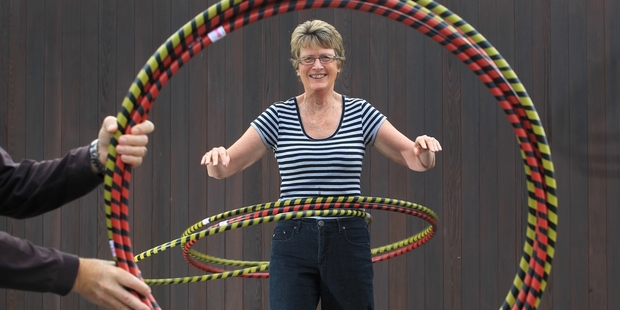 Think a typical Kiwi entrepreneur is young and tech-savvy? Think again. It may not be long before New Zealanders have elderly entrepreneurs to thank for some of this country's most exciting new products and businesses.
Retired people are turning their hands to start-up businesses in growing numbers. Statistics show that of the people who work full time after 65, more than half have their own businesses.
Steve Corbett, who runs Massey University's startup incubator, ecentre, said he had been dealing with an increasing number of older entrepreneurs. They often had experience built up over a career and good networks to do business with. They often had more financial backing to support themselves while they got started.
"They're often more coachable and are keen to see new ways of using technology that can be applied. Grey hair is a very valuable asset for a start-up business."
Tauranga grandmother Sue Davies agrees. She got the idea for the Exerhoop - hula hoops to be used by adults for exercise - at the gym.
Within a couple of months she and her husband were producing them from their home.
"Because we're a lot older we're more mature and more logical, we're older and wiser."
She said the business had taken off very quickly and the couple had to work out how to produce enough hoops to keep up. "It's far exceeded what we expected."
It's a trend that is happening internationally. In Britain, the Prince's Initiative for Mature Enterprise has been set up to help "third stage" entrepreneurs.
Tauranga's economic development agency, Priority One, is hoping to do something similar here. It has already identified elderly entrepreneurs as a possible boon for the city. It will hold a forum early next year for older people to meet, talk, and see whether there is the potential for a network.
The chief executive of business incubator The Icehouse, Andy Hamilton, said although most of the older people who approached The Icehouse still wanted to be involved in helping younger entrepreneurs get their start, at least 15 per cent wanted to launch their own business.
Kim Campbell, of the Employers and Manufacturers Association, said getting involved in a new business was a good thing for people who might otherwise be bored in retirement. "As long as you know what you're doing. I hear of plenty of stories where people go to another town and start a vineyard when they've always been a banker. It turns to custard."
He said older people were less likely to be able to bounce back if they lost a lot of money in a business gone wrong.
"But this will become more common and it can be a really good thing. People just need to remember that just because you're old it doesn't mean you're going to be any good at it."