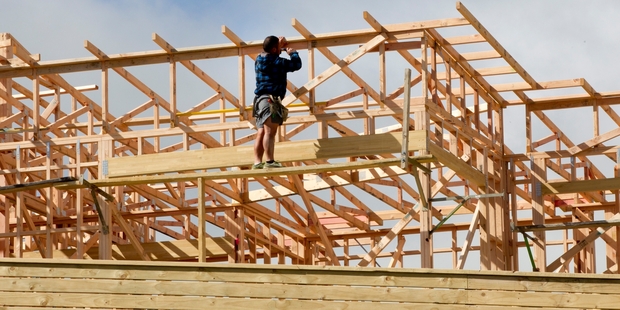 Building consents in the under-supplied Auckland market remain "worryingly subdued", particularly compared to the booming Canterbury region, says Westpac Institutional Bank senior economist Michael Gordon.
The pace of Auckland consents had slowed markedly in the last few months and he wasn't the only economist raising concerns. Statistics NZ yesterday released latest data which showed Canterbury building at record levels.
Christina Leung, ASB economist, said dwelling consent issuance for the year to September totalled just over 5600 in Auckland, well below the 13,000 of new houses the Auckland Council has estimated would be required annually to keep up with population growth in coming years.
Auckland and Canterbury were expected to drive construction growth in the near future. "However, there are signs that house-building demand is slowing in Auckland," Leung said, citing comments from building industry bosses about the restrictions on high loan-to-value-ratio lending which took effect from October 1. The September figures pre-date the Reserve Bank's LVR moves.
Leung noted building companies were reporting buyer concerns about a top-up in mortgage borrowing which might be needed during construction.
"The Reserve Bank acknowledged in its analysis of the effects of the high-LVR restrictions that reduced construction of new houses may be an unintended consequence of this new macro-prudential tool.
"There is the prospect that the high-LVR restrictions will negatively impact house-building demand at the margin," she said.
"However, given the amount of new houses required to be built in Auckland and Canterbury we continue to expect these two regions will remain the key drivers of construction growth over the coming years."
Mark Smith, ANZ senior economist, said Auckland annual consents were gradually climbing, but at 5647 were still 24 per cent below historical averages.
Smith said the Reserve Bank did not want to see financial or price stability compromised by continued high house-price inflation, and the introduction of higher capital requirements and speed limits to high-LVR lending were expected to help slow the national housing market.
"Slowing mortgage approvals suggest some policy traction is being achieved, and the Reserve Bank will be hoping there will be minimal fallout for housing construction activity," Smith said.
Statistics NZ figures for September report parts of the sector are running hot. "The total value of all building work consented in New Zealand in the September 2013 quarter was $3.2 billion - $2.1 billion of residential building work [the highest ever value] and $1.1 billion of non-residential building work."
Consents for the Canterbury region are also at a record level. "A total of 599 new dwellings were consented in Canterbury [in September], the largest number since records began in April 1976," Statistics NZ said.
Nationally, 1860 new dwellings were approved, Auckland and Canterbury accounting for 58 per cent. The seasonally adjusted number of new dwellings, excluding apartments, rose 2.6 per cent in September, Statistics NZ said.