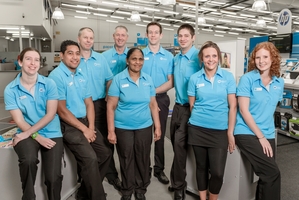 Warehouse Stationery has the singular achievement of being the first to win the new category entitled Enterprise Workplace in the Kenexa (an IBM company) Best Workplaces Award - this after being a finalist in the awards for the past three years in the large business category.
Kenexa consultant Tess O'Rourke-Ng says: "This new category signifies that more larger organisations are recognising the need to build a workplace where employee engagement is high. It also highlights that larger organisations are capable of doing so despite the challenges they face in managing the workforce."
Pejman Okhovat, CEO of Warehouse Stationery, says the company is "simply striving" to be the best retailer in New Zealand; to do this, it's about ensuring customers are looked after well. "We see it in terms of happy team/happy customers. Our focus is not to win awards, although it's wonderful to be recognised. For us, it's about being people-focused and living by our values."
Warehouse Stationery's values and vision are key to its success - the values are based on a passion for the business. Okhovat says: "It's about being passionate about making a real difference for our customers. This means being accountable, ascribing to excellence, and always being the best that we can be, team success and innovation are vital. We're always looking at how to move forward, how best to meet our customer's needs."
Okhovat says Warehouse Stationery has been a finalist in the large business category for the past three years. This category used to be for companies with 400-plus employees. However, Kenexa saw a need for a new enterprise category for companies with 750 plus employees. He says Warehouse Stationary employs just over 1000 people. "I think it's in recognition the bigger the organisation, the harder it can be to achieve full staff engagement."
Warehouse Stationery doesn't focus on awards but on customers/people and shareholders. "We genuinely are interested in achieving high staff engagement, we do it for the right reasons, not for awards."
Okhovat says in the past few years the business has seen dramatic change and transformation. "We've looked at different strategies and focuses. In our fourth year, we've looked at sales growth. It's been about having a clear strategy - focused on the customer, understanding who that is and what their needs are.
"We have a way of working that includes strong communication and clarity across all functions of the business. We share goals of good communication, investing in structured meetings and forums.
"When we are about to launch with new products, we bring in road shows at the branches so our staff members understand the products and are united with clear goals."
Okhovat says it's important the business helps staff be the best they can be. "We have retail learning pathways where staff can progress their careers if they wish to. We are prepared to invest in them to help them achieve success."
Conversations about moving up in the organisation are encouraged. "This helps us set up training programmes." A lot of the promotions at Warehouse Stationery tend to be internal. "It's been known for someone to go from the cash register to management and beyond."
The company helps staff feel appreciated with rewards, an acceptable wage and seeing the team as a large family. "Staff members all get their birthdays off."
Warehouse Stationery comprises 61 stores "these stores are made up of people who love working for us, who are passionate. One way we know this is that people tend to stay - our turnover is very low."
Okhovat says that generally people want to belong, learn and feel valued. "Pay is, of course, important, but it's not always number one as far as engagement is concerned. However, we do feel that salary does count. We want people to feel they can make a career in retail, and having a career means being able to make a living."
Part of being successful in retail is appreciating the input of staff. "They need to enjoy being part of the success, after all it's their contribution that makes it what it is."
Communication is key. Annual events such as conferences, strategy road shows, monthly and weekly structured meetings, team huddles and passing on information daily is all part of it. "Even casual staff are communicated with," says Okhovat.
Warehouse Stationery has an internal Facebook page that can be accessed only by staff. "Staff can ask for help from others in the group - it's a fantastic tool. A great way of communicating across the stores."
Warehouse Stationery also has frontline feedback or "brainwaves". "These are emails from staff I read. I tend to get 30 to 40 a week and they're about ideas that staff members may have to improve the way we run things. I respond to each idea personally and, if it's a good idea, I instruct an executive team member to look into it and bring in the improvement.
"Sometimes doing something better can be something simple - little things can change and improve things. In the end, it's about valuing everyone in the organisation."