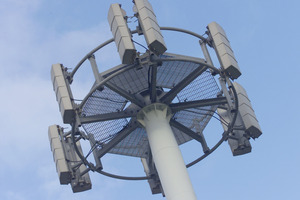 The government has raised $176 million from selling the bulk of its 700 megahertz radio spectrum, flagged for fourth generation mobile phone use, and is still mulling what to do with the remainder.
Telecom and Vodafone, the country's major mobile phone operators, each spent $66 million on three lots of 2x15 MHz spectrum while new entrant Two Degrees Mobile bought two lots of 2x10 MHz for $44 million, Communications Minister Amy Adams said in a statement.
That left one 2x5 MHz block of spectrum, which the government expects to figure out what to do with in the coming weeks. The government can either let bidders compete for the remaining spectrum or retain the unsold lot and allocate it at a later date.
2degrees said the Government should leave the unallocated spectrum on the shelf, rather than "damage long term competition by selling the unsold spectrum to Telecom or Vodafone."
"Spectrum is the motorway for mobile operators, and in the next few years that motorway will be built on 1800MHz spectrum, which all mobile operators already own. There are no mobile devices or networks using 700MHz that can be deployed in New Zealand right now, so there's no pressing consumer need to sell the remaining portion of that band," said 2degrees chief executive Stewart Sherriff.
"Overall this is a successful outcome for the auction that bodes well for the future of competitive fourth generation mobile services in New Zealand," said Minister Adams. "While 2degrees has bid for slightly less spectrum than Telecom and Vodafone, internationally we have seen that 2x10 MHz is sufficient to run a viable 4G network and provide much faster data speeds to mobile customers."
The government put a minimum reserve price of $198 million for the spectrum, something privately-held 2degrees said was a premium to the $157 million spent clearing the radio waves in the switchover of analogue television to digital and the $119 million valuation attributed to the spectrum by the Treasury.
While some 4G capability is already available on higher MHz spectrum, the 700MHz range is especially well-suited to pushing fast mobile broadband into rural areas because it requires fewer repeater stations to achieve coverage.
As part of the auction's conditions, the mobile phone operators will have to upgrade existing rural cell sites to 4G capability within five years and continue to expand their coverage. That's to ensure at least 90 per cent of the country has access to a 4G network within five years.