Analysts expect power company's stock to keep trading above its issue price after gaining 8pc on first day.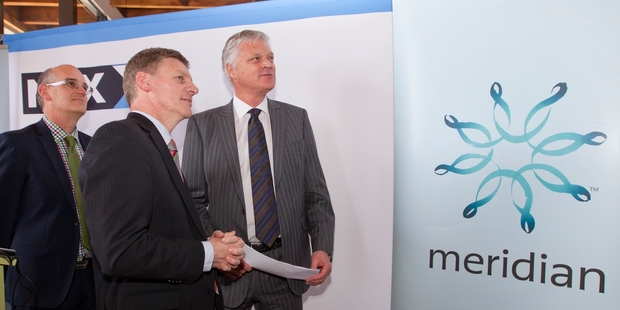 Analysts expect Meridian Energy to continue trading above its issue price after a strong debut on the market but say it's still early days for the country's largest sharemarket float.
The first instalment receipt in the biggest power company touched $1.09 before closing up 8 per cent on $1.08 yesterday on high turnover.
Around 20 per cent of the company's 1.255 billion shares on issue changed hands with the total value of trading hitting $289 million.
The turnover was higher than Mighty River Power's first day when around 10 per cent of its shares on issue changed hands with a total value of trades at $187 million.
Meridian shares were priced at $1.50 apiece last week but investors have paid only $1 for the first instalment. A further 50c a share is due to be paid in 18 months.
James Smalley, a director at broker Hamilton Hindin Greene, said the turnover showed there was significant interest on the market.
"It's closing at the high end [of the bids] and that generally indicates that demand has gone pretty well through the day and bodes well for [today]."
Smalley said orders were at the large end indicating trading was happening between institutional investors rather than mum and dad shareholders.
"Very rarely are you seeing the likes of 5000 or 2000 shares traded - it's more like 500,000 or 1 million."
Mighty River Power's share price also rose on its first day of trading before falling below its $2.50 issue price two weeks after listing.
Smalley said he expected Meridian's share price to stabilise at a couple of cents higher but it could be weeks or months before its performance was able to be measured.
Phillip Anderson, an energy analyst at Devon Funds Management, said it was a good start for the energy company.
"It's early days but this is the kind of performance you want for an initial public offer."
Anderson said a 5 to 10 per cent increase on listing was generally seen as positive for a float as it meant enough had been left on the table for investors to get a boost.
It appeared that the Government had done a much better job of pricing Meridian compared with Mighty River Power, he said.
Anderson said the high level of trading was being driven by the very strong opposing views on how the company could be affected by a change in government at next year's election.
He did not expect the trading to continue at such a high level.
"It's normal to see a big spike when you list." Anderson said the price was roughly in line with Contact Energy and a bit more expensive than Mighty River Power.
"I don't think it will trade below a dollar."
The Government will be hoping Meridian Energy continues to perform as it prepares the way for its third power company sell-down.
Genesis Energy has been slated for listing in the first half of next year.
Shamubeel Eaqub, principal economist at the Institute of Economic Research in Wellington, said Meridian would be closely watched by the Government.
"If it doesn't go well they're going to find it really hard to proceed with further asset sales," he said.
Even if the Meridian shares do well in coming months, the Government faces an uphill battle, Eaqub said.
"Either it's underpriced and you gave it away, or it's too expensive and they'll say you're stealing from hard-working mums and dads."