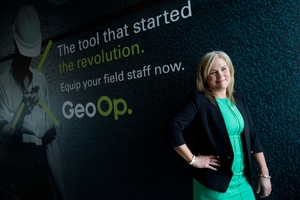 Software company GeoOp will list on the NZAX this week, making former Xero country manager Leanne Graham one of the few female chief executives of a listed company on the stock exchange.
Under Graham's leadership since January, the company has grown staff numbers from six to 34, with an optimistic Graham hoping to increase her "A-team" to 50 or 60 by mid next year.
In a hectic few months, the company has moved to new headquarters, expanded rapidly, and organised plans for their launch on to the stock exchange.
"It's been a challenge, just juggling everything and keeping things going smoothly over this time, but it is also very exciting," Graham said.
GeoOp's product incorporates an all-in-one piece of software for the trades and services sector, which aims to give companies the ability to run their entire business.
The software enables its customers to assign jobs to their staff and record everything that happens from when the job is allocated through to completion and invoice payment.
From a staff perspective, jobs can be checked, mapped, quoted and invoiced on the spot, allowing the entire process from arrival to conclusion and payment to be done in one visit.
Aside from being time-effective, Graham credits GeoOp's success to its simplicity, which she said was a vital requirement for customers.
"The system is incredibly intuitive and easy to use," said Steve Boardman, chief executive of WASP Security. "It integrates seamlessly with Xero and Navman so we don't have to double up on data entry like we used to."
GeoOp runs on a software-as-a-service (SaaS) basis, where companies pay a monthly fee and the system is updated automatically.
"When you run a SaaS-based company, your customers don't have to stay with you, they could leave at any point, so your job is to provide them with the best system and technology so they get the best experience," Graham said.
As a relatively young company, the decision to list was not made lightly, but was the right one, she said.
"Yes, it is a bit scary, but we're definitely up for it, and initial interest has convinced us we're doing the right thing."
The initial interest meant the hoped-for $8 million of private capital was oversubscibed by three times, reaching the limit of $10 million.
The company, which already operates in 43 countries, will see shares open at a listing price of $1 a share on Thursday.
"Our biggest market is in Australia at about 50 per cent, and the US is second at 20 per cent," she said.
"The New Zealand market is only at 15 per cent right now which is also why we wanted to list, to give us a bit more presence and to allow New Zealanders to have a part in the company."
The shares will be listed as a compliance listing, allowing anyone to trade in them.
The capital raised would be used for development, sales, marketing and infrastructure, and while GeoOp was looking to the NZAX for the moment, Graham hoped to move to the main exchange if the company's growth and success continued.
"At the moment we're aiming to prove to the market that we can do what we say we're going to do, and then we'll look at maybe moving up after that."
Graham's background includes 27 years of experience in sales and marketing of software, and Xero chief executive Rob Drury described her as having "played a key role in our leadership team".
Graham is a start-up entrepreneur enthusiast and made the decision to leave Xero and take on GeoOp when the opening arose early this year.
Read more: Twelve Questions: Leanne Graham