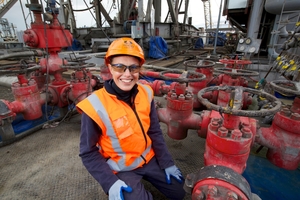 With oil fields generally in remote or unstable places, Sarah Balsom feels lucky to be based in Taranaki.
"Why would you want to live anywhere else, there's the mountain, the coastline and the culture. It's safer than Nigeria and a lot warmer than Edinburgh."
Sarah, originally from Napier, is a Todd Energy completions engineer.
She left Massey University with a BTech degree in Chemical Technology (first-class hons) to join the NZ Refining Company, Ruakaka.
Her first sojourn in New Plymouth was with Halliburton, followed by a job with Qatar Petroleum in Doha.
In Qatar, she took every chance to travel with friends and her now-husband, Wayne.
They visited Syria before civil war broke out, Egypt before its civil unrest, Jordan and Lebanon, enjoying such ancient countries.
"Qatar is a positive place, with a vibrant expatriate community. There's so much money around, the attitude is anything's possible.
But in countries like Qatar, it's still only men who get to work out inthe field. Mine was an administrative role in the city."
Sarah recommends her profession to young people: "Whether it's a civil engineer designing a sewer main, a chemical engineer developing a house paint, engineers are out there to improve lives, so it's a really positive vocation."
Her roles have included input into the elements with which drillers work, such as the cement poured in to line the drill hole or she might design the right slurry for the job, which as well as making calculations, demands lab pre-testing.
"There's big responsibility but you're never working alone. It's a team effort ..."
In drilling, with the potential for the unexpected, she has concluded that the best kind of day at the office is a boring one (no pun intended).