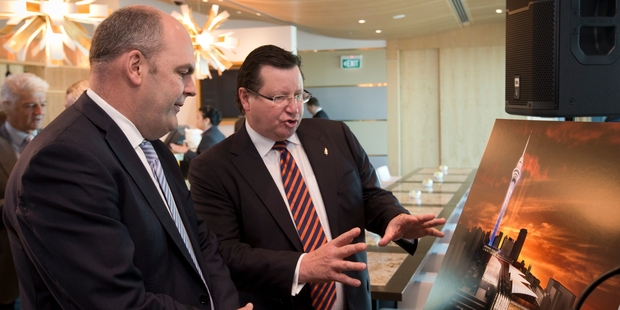 SkyCity Entertainment Group's share price has come under pressure this week amid political ruminations over whether Labour would can the Government's convention centre agreement if elected next year.
The Labour Party has refused to rule out stopping the deal and it seems the casino operator would potentially get no compensation if it was pulled.
But Morningstar analyst Nachi Moghe says SkyCity has time to wait on the outcome of the election as it will take another year before it is ready to build.
"The company will not start building the convention centre for at least the next year or so. It will take them time to go through the resource consents process."
Moghe said so far the company had only acquired land for the deal and that investment had already gone up in value.
Moghe estimates the convention centre could add as much as 25c per share to SkyCity's value and said if it was not built then the company would miss out on that upside.
In the meantime it was also being battered by the high New Zealand dollar against the Australian dollar.
That affected Sky's earnings from its Darwin and Adelaide casinos which made up about 25 per cent of its business, he said. However, he said he was sticking to his profit forecast of $135 million for the 2014 financial year and maintained his fair value estimate at $4.60 per share.
SkyCity's share price was down about 10c yesterday from last Friday's closing price. It closed down 4c at $3.83.
POWERING ON
Meridian Energy is set to join the stock exchange on Tuesday after the Government succeeded in getting New Zealand's largest ever float away.
But the number of individual investors joining the register is a resounding disappointment. Just 62,000 people put their hands up to buy the shares, almost half the 113,000 that bought into Mighty River Power and well below the 225,000 who bought into Contact Energy when it was floated 10 years ago.
Proponents of the deal say those who bought in have taken a larger lick of the stock and likely to be more experienced quality investors who will be in for the long haul.
Mighty River mum and dad investors put an average of $8220 into the company while the average for the first instalment of Meridian was $12,080.
If all 62,000 new Meridian individual investors cough up for the second instalment then that average investment will be over $18,000 each.
Certainly the numbers indicate a better buy-in and that individual investors will each have a more meaningful stake. But it does little to meet the Government's aspirations for encouraging more first-time investors into the sharemarket.
NEXT PLEASE
The Government will be hoping Meridian's share price doesn't tank otherwise it could make selling Genesis Energy a very hard task.
Meridian has been seen as the Government's jewel in the crown asset with its renewable energy and high rate of return on assets appealing to a wide range of investors.
The Government has signalled it plans to list Genesis in the first half of next year. But analysts say there could be second thoughts if Meridian fails to fly.
Milford Asset Management's William Curtayne said if Meridian went down it would make it harder to get Genesis Energy away.
Curtayne said pricing for the power companies was also being challenged by a pick-up in global growth leading investors to switch their focus from income paying dividend assets like Meridian to growth assets.
However, that could be a boon for the Government's other asset - Air New Zealand.
Now that Meridian is mostly out of the way the Government could move quickly on Air New Zealand. Air New Zealand shares have rallied in recent weeks and are trading at their highest level in two years.
Yesterday they closed steady at $1.64.
TOO MUCH POWER
Meridian's addition to the stock exchange is prompting professional investors to consider using a wider benchmark to avoid overexposure to the utility sector.
Brokerage Craigs Investment Partners estimates utilities' index weighting may rise to about 13 per cent, from 11 per cent currently, following the inclusion of the first tranche of Meridian in December and increase to about 16 per cent with the second tranche of Meridian and the likely inclusion of Genesis Energy next year.
That could elevate utilities to the second-largest sector in the index after cyclical consumer goods and services, which includes Fletcher Building, Sky Network Television, SkyCity Entertainment and retailers such as Warehouse Group. Industrials are currently second ranked by index weighting, though the weighting will likely reduce as utilities grows.
"Electricity is clearly becoming a big part of the index," said Phil Anderson, an energy analyst at Devon Funds Management. "Investors need to be aware that just having a New Zealand-focused benchmark is potentially not getting the full benefits of diversification."
Using a more diversified transtasman benchmark with Australia's S&P/ASX 200 Index adds exposure to the banking and resources sectors, he said.
"When we put our clients' money to work we think a lot about concentration risk and try and have a more diverse portfolio."