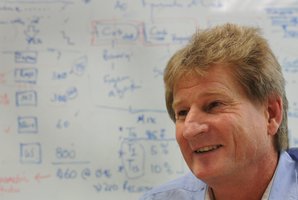 Shares in medical research company Pacific Edge surged nearly 50 per cent to a new all-time high last night after the company struck its second US deal in less than a week.
Pacific Edge yesterday signed an agreement with medical network solution company, the America's Choice Provider Network (ACPN), giving the US firm use of its bladder cancer test, Cxbladder. It comes after Pacific Edge said last Friday that it had secured an agreement with medical provider FedMed.
It also won the supreme award at the New Zealand Innovators Awards last week - more good news for a company that reported a loss of $6.9 million for the latest financial year.
"It's been a pretty amazing week all round and it's great for the company to be getting traction in the US market, and for our shareholders," said chief executive David Darling.
Pacific Edge shares have gained more than 110 per cent since October 15 to close at $1.06 last night.
The Dunedin-based company launched Cxbladder, which uses genetic biomarkers in urine to detect the presence of cancer, in July. The test was initially picked up by the MidCentral District Health Board in Palmerston North as its first commercial customer and is now actively in use throughout New Zealand and Australia.
According to Pacific Edge, signing with FedMed will give access to the test to more than 40 million people in the US, and a further 14 million from signing with ACPN.
According to Pacific Edge, more than 1 million Americans will undergo testing for bladder cancer in the next year, at a cost of about US$1 billion.
Cxbladder, which is being marketed as being a third cheaper than any other test, as well as the most accurate, could result in bladder cancer being diagnosed and treated much earlier, says the company, resulting in lowered treatment costs and a higher success rate.
Darling said the company would be expanding into Spain, which has the highest bladder cancer rates in the world, as well as Asia as early as next year.