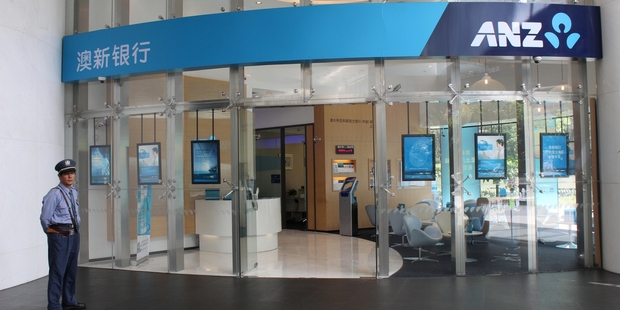 In Shanghai's leafy Xintiandi - around the corner from the building in which China's Communist Party held its first congress and near the multi-level fashion stores that dominate the area today - there's a sight most Antipodean visitors would find very familiar.
It's an ANZ branch, and it doesn't look any different from one you'd find on Queen St or Lambton Quay. Above the entrance there's a photograph of a Chinese student, in graduation garb, at the University of Otago.
ANZ's roots in China stretch back to 1986 - soon after the country began opening up to foreign investment - when the bank established a representative office in Beijing.
ANZ now has eight branches across five Chinese cities, including Beijing, Guangzhou and Shanghai.
ANZ became locally incorporated in China in 2010 and employs 700 staff in the country.
But while retail banking is part of the bank's operation in the world's second-biggest economy, the focus appears to be more on the commercial side of the equation, taking advantage of the growing trade flows across the Asia Pacific region.
But ANZ's head of commercial banking in Hong Kong, Arnab Bhattacharya, said the bank's expansion plan in China was about more than just helping Australasian exporters do business in the Chinese market.
"We want to be a relevant player in the commercial banking space to the Asian client base," he said.
The most recent chapter of ANZ's expansion into China is part of its strategy, launched in 2008, to become a "super regional" bank in the Asia Pacific region.
In 2009, the bank clinched a deal to buy the Asian businesses of Royal Bank of Scotland for US$550 million ($657 million), giving it assets in countries across the region including Singapore, Hong Kong, Vietnam and Indonesia.
At that time ANZ chief executive Mike Smith told Bloomberg: "I don't want to take on HSBC or Citigroup in Latin America or in the States or in Europe, but if it's in our backyard, in this region, then yes, we'll take them on."
Bhattacharya, however, admits that in China ANZ will never become the kind of player it is in Australasia.
Instead, the focus is more on becoming the Chinese equivalent of HSBC or Citibank's operations in this part of the world.
"That's a huge positive for us because it gives us the luxury of selecting the right clients in the right markets," Bhattacharya said.
He said it was a "relationship approach" that set ANZ apart from its competitors in Asia.
"When you bank a client you're trying to bank a client for life, which is not necessarily the approach a lot of other banks are taking to Asia," Bhattacharya said.
"During the decade of easy capital, [banks] could have product silos and still be profitable and drive revenues. Today you really need to understand your client."