Grey Lynn opponents to Bunnings Warehouse proposal see further battles ahead irrespective of planning decision.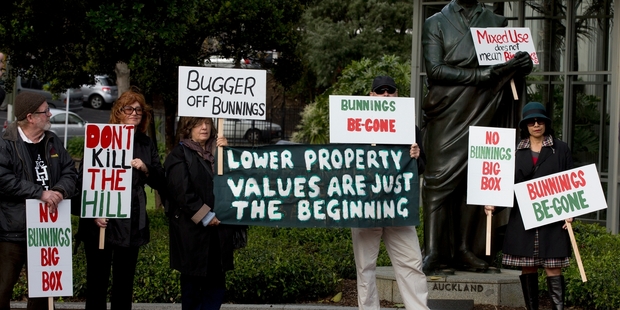 The battle over a proposed controversial Bunnings Warehouse in Grey Lynn will likely be heading for the Environment Court, irrespective of the awaited decision from independent planning commissioners, says a residents group.
Arch Hill Residents Association's Facebook page pondered the prospect of the next stage of the battle, after last week's four-day hearing where residents concerned about the impact of the development on the local community clapped expert witnesses and reacted emotionally.
"The Bunnings application hearing is over," said a post on the Arch Hill Matters site.
"If it is declined, then they will most certainly appeal. If it is approved, then we have options to consider," it said, indicating residents could also head for court.
A residents' street party had raised about $9000 and nearly $43,000 had been raised so far towards a war-chest to fight the development, the residents said.
An Australian executive of the DIY hardware chain took a cool-headed approach to proceedings after the hearings ended on Thursday.
Peter Davis, Bunnings' chief operating officer, said he was well aware of the issues being raised.
"I think we're just going through the process and working with the community and the council on a number of issues which we've always done, to ensure we will get an outcome. There was a factory operating on the site before it was acquired so I'm not sure our use is any worse than a factory."
He knew of traffic issues and acknowledged Bunnings' proposal would increase truck movements but said the business remained keen on that site.
"It's an ideal place. The market is under-serviced in that area. They don't have any home operations in that area and it's very difficult for us to find a site in an area like this," Davis said of the wider area filled with old villas and bungalows.
Davis said he was well aware the Arch Hill Residents Association had been formed to oppose Bunnings but did not see this as any negative.
"I think it's important communities have an opportunity to express their opinions."
The chain, one of the most profitable divisions of the ASX-listed Wesfarmers Group, remained keen on expanding here.
David Boersen, Bunnings' property and store development manager, said the store design was "very cognisant of the interface with the adjacent residential houses".
But he also showed how other Auckland Bunnings stores were often only half as big as a site, compared to the proposed 8340sq m Grey Lynn store on its 7206sq m site.
Architect Jonathan Rennie, a Bond St resident and association member, told commissioners that information about the development was misleading, Bunnings had failed to provide shading diagrams which were requested and was unresponsive.
Andy Jacobs of Dean St contrasted Bunnings' proposal unfavourably to a Countdown supermarket about to rise on Ponsonby's Soho site where more mixed uses are planned, with apartments, offices and shops.
David Batten, also a society member and resident of nearby Potatau St, objected to the size of the Bunnings which he said was on an industrial scale.
The interface between Bunnings and 19th century houses was "obscene" and it was obvious Bunnings was "not used to such an up-front and personal relationship with the immediate community with which they propose to interface".
Bunnings wants to build its store on the site of an empty clothing factory, on Great North Road, Grey Lynn:
Nisha Evans, a Home St resident of 30 years, said she feared for the area which had become increasingly busy. She had seen numerous accidents and injuries involving cyclists, motorists and pedestrians and she has also been injured.
Nigel Williams, a director of traffic engineers Clearway Consulting, said the size of a Bunnings and its parking requirements differed.
He surveyed seven Auckland Bunnings and two Mitre 10s to conclude parking demands would exceed the expected peak parking demand at the proposed Grey Lynn site. He also carried out surveys of how staff got to the Glenfield and Botany stores.
"It appears Bunnings does support all staff parking taking place on site," Williams said, also giving evidence of what he expected would be difficulties a 5-tonne truck would have turning in the narrow streets behind the site, being forced to back up to let cars out, obstructing traffic trying to enter.
Parties are awaiting the commissioners' decision.