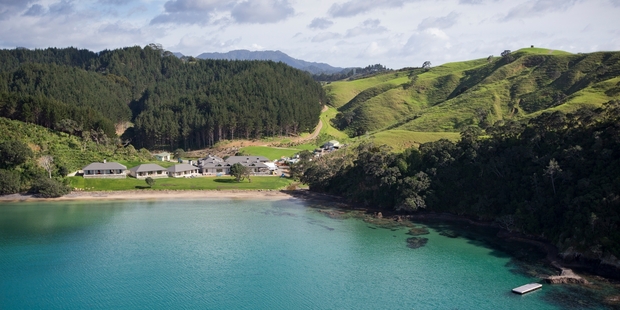 Problem: you buy the perfect Northland beachfront section, on a calm, gently sloping beach - but how to get from your great smackingly beautiful house to your gigantic multi-level fast, heavy boat which obviously needs to be in deeper water?
And all this, without getting your feet wet?
Alexander Abramov resolved that by building a 233m-long coastal walkway around the bay to a pontoon off a jetty of about 13m at one end of the beach.
From the jetty, Abramov and guests will be able to take a short boat trip to their super yacht.
- Read more about Abramov's new home and NZ's most expensive residential project in Anne Gibson's 'Billionaire's paradise' article. -
Mr Abramov has been reported as owning the superyacht Triple Seven, a sleek and modern 67m boat with a cinema, gym and jacuzzi, which has visited Auckland twice.
The walkway will enable the billionaire and guests to mount deep-sea fishing expeditions from Helena Bay and tie up the boat once their catch is on the BBQ.
The structure is understood to have cost about $1 million. For the pathway, workers laid a base of gravel on the existing rock, then built a base shape into which they tipped cement. It was sculpted by hand and waterblasters to get a natural shape as close to natural rock along the foreshore as possible.
Experts say these were the same techniques used to create the natural-looking environments created by builder NZ Strong at Auckland Zoo where new precincts were developed to showcase New Zealand.
The Department of Conservation tried to stop Mr Abramov building the long winding concrete path across coastal rocks and jutting out into the bay, saying it was unnecessary. But Mr Abramov beat off the state, although he had to meet a number of conditions.
Chris Seel, project manager, said replica rocks were used to make the walkway discreet. He said the same techniques had been used at Auckland beaches at Kohimarama and Mission Bay.
Building big
Features of New Zealand's most expensive new house:
* Main u-shaped 4-bedroom grand lodge with central courtyard swimming pool.
* Dining areas, lounge rooms, 50m hall which can become a ballroom.
* Lodge area appears to be about 10,000sq m, or one-and-a-half rugby fields.
* Angled away from coastal winds, towards shelter and sun.
* Three guest accommodation villas built to face the beach.
* These will be used by the Abramov family, guests and staff.
* All four buildings have 8 indoor fireplaces, 2 outdoor fireplaces.
* Estimated to be worth about $40 million when finished
Alexander Abramov
* In his early 50s
* Made his money in steel and mining
* Lives in Moscow
* Married with three children
* One of Russia's richest men.