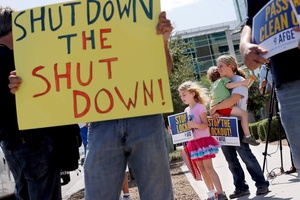 As the federal government shutdown continues, Tory Anderson, right, with her kids Audrey, 7, and Kai, 3, of Goodyear, Ariz., join others as they rally. Photo / AP
The US Federal Reserve's decision last month to maintain the size of its economic stimulus was a shocker. Just about everyone expected a pullback in its bond purchases, which have helped keep loan rates low.
And now?
Thanks to the Government's partial shutdown, many analysts don't think the Fed will reduce its stimulus before next year.
And with the White House's choice of the like-minded Janet Yellen to succeed Ben Bernanke as chairman next year, the Fed will probably be cautious about any pullback early next year.
Bernanke and the Fed may also now look a bit wiser to those who questioned their stance last month.
A key reason Bernanke gave for maintaining the pace of the Fed's stimulus was Washington's budget impasse. It posed a risk to the economy and financial markets, he suggested.
Bernanke said the budget standoff would probably make it harder to know whether the economy was strong enough for the Fed to slow its stimulus.
If anything, the economic outlook is getting darker.
Even if the partial shutdown ended now, a graver threat awaits - a deadline to raise the federal borrowing limit. If Congress doesn't raise the limit by next Friday, the Government will soon run out of cash to pay interest on its debt. Any missed payment would cause a default. Another recession would probably follow.
Even after the Fed chose last month not to slow its stimulus, some analysts said it might reduce the bond purchases this month or in December.
Few are saying so any more.
What's changed was the partial shutdown, which many analysts hoped would be averted, and the growing risk that Congress won't raise the debt limit.
"With everything that is happening with the federal budget, the Fed is going to be even more cautious about doing anything," predicted Sung Won Sohn, an economics professor at California State University.
"The best approach they can take right now is stand pat and watch."
The economic outlook will remain murky as long as the partial shutdown continues, as it has delayed the Government's release of critical economic data.
- AP