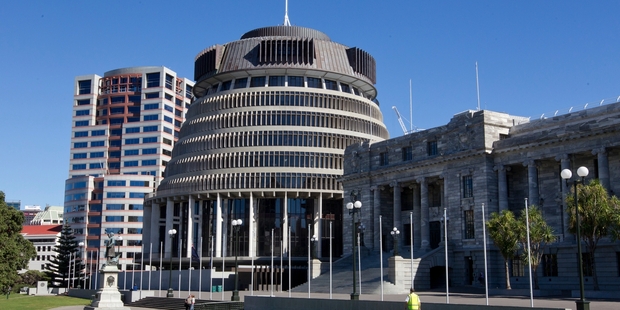 Finance Minister Bill English has warned hard-won gains that saw the Government's year-end finances come in better than forecast would be wiped out under Labour's "lolly scramble" policies.
The Crown's year-end financial statements yesterday revealed an operating deficit of $4.4 billion, well down on this year's Budget forecast thanks to bigger than expected tax receipts and lower than anticipated earthquake recovery costs.
"The Government's approach has been validated by today's result," Mr English said. He said 2005 marked a turning point in New Zealand's economic fortunes which saw Government spending increase, a surge of house price inflation, followed by the global financial crisis and the Canterbury earthquakes.
"Almost a decade after going off track back in 2005 New Zealand Inc is rebuilding its ability to provide more jobs, lift incomes, protect the most vulnerable and provide decent public services. These financial results reflect a more resilient economy where government, households and businesses have successfully adapted to different conditions."
Mr English said there was no room for complacency, "and no room for political lolly scrambles".
"We do need to stick with the programme that has served us successfully over the last four or five years. Certainly the Opposition's recipe of more spending, more debt and government taking over housing, electricity and labour markets can't deliver what's promised and what New Zealanders need. It would undo all this hard-earned progress."
Yesterday's numbers showed the Government was well on track to achieve its target of a surplus in the 2014-15 financial year but Mr English downplayed any prospect of tax cuts when the books return to surplus, instead pointing out his Government had signalled cuts to ACC levies, "which do flow straight through to pay packets".
Other priorities were rebuilding Earthquake Commission reserves and resuming contributions to the NZ Super Fund. But the number one priority was paying down debt. "Anything could go wrong in the next five to 10 years and we need to get New Zealand in a position where it can run debt up again if that's what it has to do."
Labour finance spokesman David Parker said it was good the Crown's finances were returning to surplus "but it's just part of what is needed for the country". The Government's economic policies were creating a "two-speed economy". "Property speculators cream huge profits, while the door is slammed shut on the home ownership dreams of thousands of first-home buyers.
"Older New Zealanders' income rises, while the young struggle with falling wages."