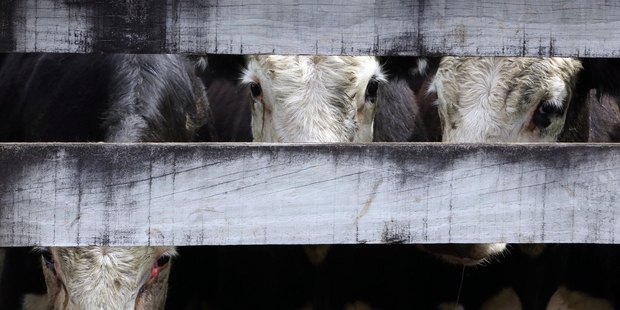 A mild winter and a favourable spring have boosted confidence in the New Zealand beef industry after last summer's challenging drought, says Rabobank.
Prices at current levels are at their highest since the start of last year, although the high NZ dollar continued to provide a headwind, the rural specialist said.
Rabobank said prices had risen in line with a seasonal low point in supply and average export returns had also seen some improvement.
Farmgate prices were stable at just below $4/kg throughout June and July, but gained ground during August and September.
The North Island bull price at the beginning of September averaged $4.07/kg - up 3 per cent from a year earlier, and 4 per cent or 15c/kg above the five-year average.
Rabobank analyst Matthew Costello said the 7 per cent decline in the New Zealand dollar against the US dollar between April and the end of August had been helpful in boosting confidence.
But the currency had since rebounded to the highest level since May, putting downward pressure on prices and challenging New Zealand's competitiveness in export markets. Prices averaged $4.03/kg as at the end of September.
Costello said prices were likely to remain around current levels, with some potential upside over the next few months as supplies tighten.
Total cattle slaughter reached 2.15 million head for the New Zealand processing season (October to July) and still remained 12 per cent above the same 10-month period last year because of the high slaughter earlier in the year. However, supplies have tightened in recent months.
Total beef slaughter during May, June and July declined 5 per cent year-on-year to 624,335 head, with cow processing volumes also declining 5 per cent year-on-year to 274,589 head. In line with tightening supplies, Rabobank said total exports in May (35,500 tonnes), June (36,842 tonnes) and July (28,411 tonnes) declined, falling 18 per cent, 6 per cent and 12 per cent respectively.
The bank said China was now firmly established as New Zealand's second largest export market after Europe, with average export returns now on par with the US, averaging $5.27/kg (freight on board) over the first seven months of this year.
Rabobank expects international beef market demand to remain strong, with the world economy recovering and growth in the buoyant markets in Asia, especially China.
Costello said: "In the coming months, Chinese imports are predicted to increase due to the rapidly approaching festivity season toward Chinese New Year in February." APNZ
- APNZ