Brokers say people have overcome early concerns about float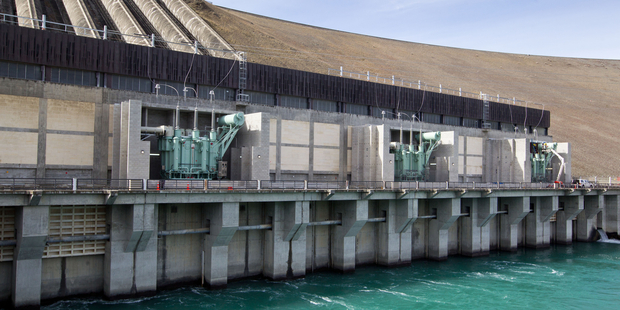 Investors have overcome their concerns about a poor debut for Mighty River Power and a market-unfriendly Labour-Greens policy to show their support for the Meridian Energy share offer, say brokers.
Interest in Meridian had been slow initially but had picked up considerably since the release of the offer documents on September 20, they said.
Grant Williamson at Hamilton Hindin Greene said staff had been busy dealing with investors seeking shares in the giant state-owned power generator and retailer, which is expected to list on the NZX on October 29.
The Christchurch-based brokerage - which is not associated with the Meridian float process - had applied for and received its firm allocation after bidding for stock on behalf of clients.
"We have very much filled our firm allocation and have had very good demand for that," Williamson said. "We are now starting to see a number of investors coming along to participate in the public pool."
"The public pool looks like it is going to go at least as well, if not better, than Mighty River Power," said another market source.
Mark Lister, head of private wealth research at Craigs Investment Partners - one of the joint lead managers for the float - said potential investors in Meridian had been tentative to begin with following on from Mighty River's poor showing in May and after the initial shock of the Labour-Greens plan to take control of the electricity market.
But Lister said the release of the offer documents, which detailed the likely yields, and the $1.60 share price cap, had seen investor interest perk up.
Investors had particularly taken to the cap because it gave them certainty, unlike the price of Mighty River, which was determined through an auction-style book-building process.
"Interest at the coal face is very strong," Lister said.
Investors were mindful of the Labour-Greens policy. "It's obviously a risk for the sector but people have a chance to decide on how big a risk it will be," he said.
Meridian is the subject of overseas investor roadshows which are still in progress.
"We are receiving very encouraging feedback as we meet with both onshore and offshore investors," said Andrew Barclay, chief executive at Goldman Sachs NZ - another of the joint lead managers.
The Government is seeking 85-90 per cent New Zealand ownership of Meridian shares, while retaining a 51 per cent stake. That means about 20 to 30 per cent of the initial public offer will go to offshore investors.
When Mighty River floated, offshore funds promptly sold their holdings because their allocations were too small, which put downward pressure on the share price.
One investment banking source said that offshore funds were likely to face the same problem with Meridian in terms of the likely size of their holdings, but were more likely to top up their stakes in the so-called after-market, post float, rather than sell them. "My own personal view is that they will be in there in a big way," the source said.
Independent analysts generally supported the Government's $1.50 to $1.80 final pricing of the issue for the institutional offer.
They agreed the stock was more likely to be a dividend yield story rather than one of share price growth.
TDB, one of a handful of firms to provide independent analysis for the issue, said investors should not think of Meridian, and its peers, as having stable, predictable earnings. "They face a great deal of uncertainty around water inflows, fuel prices, electricity prices, the regulatory regime, and political risk," TDB analyst Daniel Foote said during a conference call.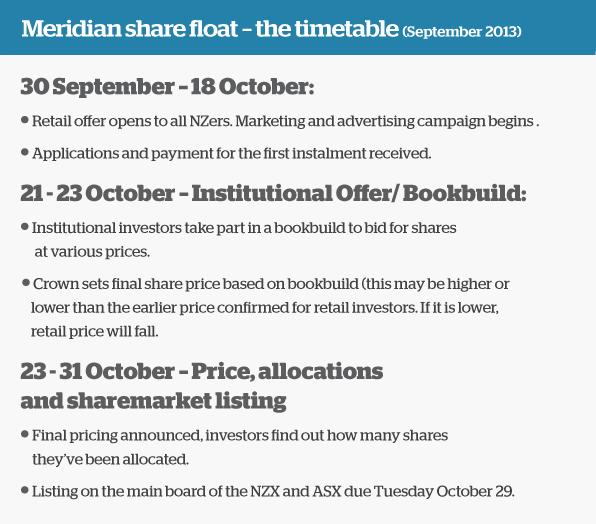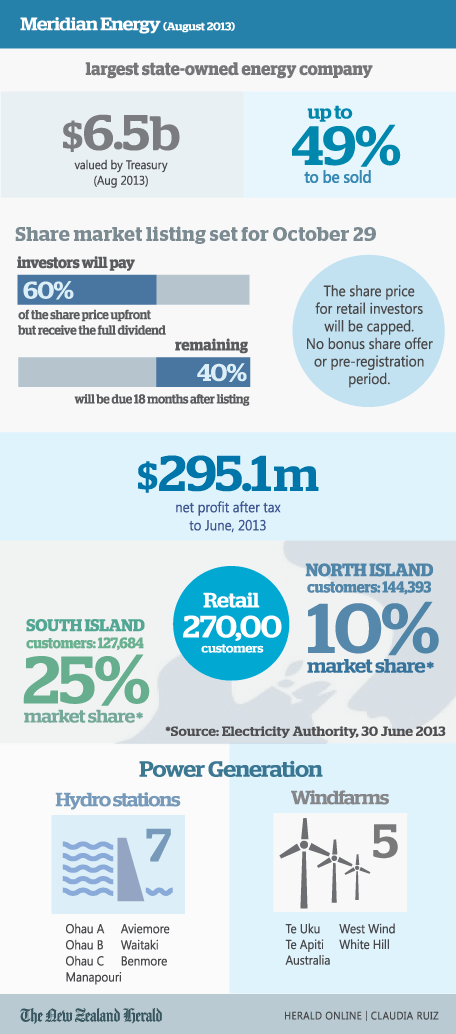 - APNZ