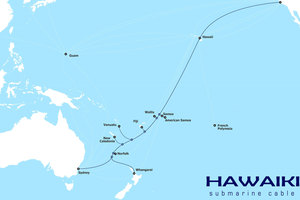 The Auckland-based company planning a second submarine internet cable out of New Zealand has signed on another customer.
Hawaiki Cable is planning to build a 14-000km cable system between New Zealand, Australia, Hawaii and the US west coast and says that the project could be operating within two years.
It was announced today that listed-Australian internet provider iiNet intended to buy fibre capacity over the cable.
"The multi-million dollar deal will see iiNet acquire fibre capacity on the Sydney-to-US cable leg and the trans-Tasman leg linking Sydney to Whangarei in Northland, New Zealand," a statement from Hawaiki said.
Hawaiki chief executive Rémi Galasso said today: "iiNet's strategy to build its own super-fast broadband network is remarkable and fits our ambition to build a carrier-neutral submarine cable system. This deal also demonstrates the suitability of our network design and commercial approach."
Earlier this week Hawaiki announced another "multi-million deal" where local internet provider Voyager - which was founded by Seeby Woodhouse - would purchase capacity over the cable during the next 10 years.
Hawaiki announced last month it had signed an agreement with US-based TE SubCom for it to design and lay the planned cable. TE SubCom will survey the proposed route for the cable and use this data to design and build the infrastructure in New Hampshire.