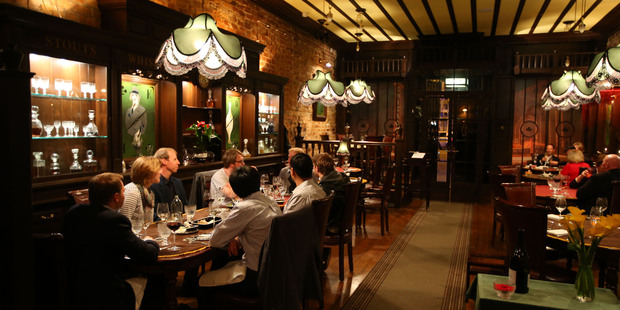 An Auckland restaurant with links to Phoenix Forex - a company that sold controversial currency trading software - has been put into liquidation owing almost $5 million.
Restaurant Ltd, now in liquidation, operated the Brownstone Restaurant and Cocktail Lounge on Auckland's Ponsonby Road. The restaurant was previously known as Nostalgia and before that Prohibition, opening its doors in August 2008 after running up $2.9 million of costs during an 18-month refurbishment.
Prohibition began trading as a "premium fine dining restaurant" but the business was hampered by "various unfavourable rumours, in particular that it was owned by the Russian mafia or that it was a gentleman's club", company director Colin Gardner told liquidators.
The liquidators, Christopher McCullagh and Stephen Lawrence of PKF, revealed this and other reasons Gardner gave for the company's failure in a report released yesterday.
According to Gardner, who said he contributed $4.8 million to financing the business, the Rugby World Cup also had a bad impact on the restaurant as it was not in, or close to, the tournament's fanzone.
The downturn continued for 11 months after the event and its "legacy" continued to cause cash flow problems.
The company's shareholders then sought to get finance by selling shares or other arrangements and were unsuccessful until February this year when Phoenix Group Ventures came on board.
Phoenix Group Ventures is the shareholder of Phoenix Forex, which the Financial Markets Authority issued a warning about in August.
Phoenix Forex was selling licenses, costing up to $25,000, for the OakFX currency trading software.
"FMA believes that Phoenix Forex's claims about the level of returns made by its trading system are untrue, and that Phoenix Forex is misrepresenting the profitability of, and risks associated with, its trading system...FMA urges caution by anyone considering dealing with Phoenix Forex," the warning said.
According to Gardner in the report, Phoenix Group took a controlling interest in Restaurant Ltd in February for a $100,000 capital contribution and an undertaking they would underwrite monthly cash flow shortages for six months.
Phoenix Group appointed a general manager, which took over day-to day management of the restaurant and changed the menu, staff, interior and exterior and renamed the business Brownstone.
"Despite the changes the trading conditions did not improve," the report said.
There were discussions with Phoenix about financing during August - the same month the FMA issued its warning - "when Phoenix encountered significant business issues affecting is [sic] on-going operations in New Zealand," Gardner said.
"On 20 September 2013 it became clear that the Phoenix Group were no longer going to provide on-going financial support for the company to continue trading...," Gardner reportedly told liquidators.
On that day, David McEwen and Kendall Twidgen - Phoenix Group's shareholders - stepped down as directors of Restaurant Ltd, according to the Companies Office.
The liquidators were appointed on September 23 and their report says the company owes $4.8 million to the Rendrag Family Trust, which is secured by a General Security Agreement.
Trade creditors are owed $95,000 and rank behind this trust.
The report said there are assets with a book value of only $1.65 million available to meet these debts.