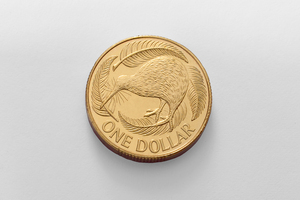 The New Zealand dollar weakened on the expectation the US government's failure to reach agreement on its budget, partially shutting down government services, will only be temporary.
The kiwi slipped to 82.66 US cents at 8am in Wellington from 83.05 cents at the 5pm market close yesterday. The trade-weighted index dropped to 76.81 from 77.32 yesterday.
Investors are betting fallout will be limited from the shutdown of some US government services after failure to reach agreement yesterday for the first time in 17 years. Fitch Ratings reiterated that the shutdown isn't a trigger for the US credit rating however it does undermine confidence in the budget process and raises concerns about whether politicians can reach agreement on increasing the country's borrowing capacity to enable the US to meet its financial obligations.
"There was limited market reaction to the US partial government shutdown," Mark Smith, senior economist at ANZ New Zealand, said in a note.
"A shutdown is unlikely to have a long term impact on the economy, but if it extends to the debt ceiling debate it could cause market turmoil."
Politicians must agree by mid-October to raise the country's US$16.7 trillion debt ceiling or risk an historic US default.
Optimism about the US economic revival rose after a report yesterday showed the ISM factory index for September at its highest since April 2011. That was its fourth straight rise from a contraction in May and if sustained, it is a significant signal that pessimism regarding the US economic outlook might need to be reconsidered, Imre Speizer, markets strategist at Westpac Bank, said in a note.
Tonight, traders will be eyeing the US ADP employment report with increased interest. The report will still be published as it is produced by the private sector, while the Bureau of Labour Statistics payrolls report, scheduled for release on Friday, will now be delayed because of the shutdown. The job market is a key indicator for the Federal Reserve which is considering tapering its US$85 billion a month monetary stimulus programme as economic data improves.
"With the Fed in data-watch mode, this is an added complication, which is likely to keep tapering on the sidelines for a while yet," ANZ's Smith said.
In New Zealand, a report this morning showed prices of dairy products rose in the latest GlobalDairyTrade auction, paced by whole and skim milk powder, the biggest products by volume, while overall volumes stabilised.
Also today, traders will be eyeing the ANZ Commodity Prices report for September and a speech by Reserve Bank Assistant Governor John McDermott about neutral interest rates.
The New Zealand dollar fell to 88.03 Australian cents from 89 cents yesterday after the Reserve Bank of Australia kept interest rates unchanged yesterday and gave no indications of an easing bias, surprising some investors.
The kiwi dropped to 80.88 yen from 81.64 yen yesterday after a positive third quarter Tankan business confidence survey. Japanese Prime Minister Shinzo Abe yesterday pressed ahead with plans to increase the country's sales tax to 8 per cent from 5 per cent next April and said the government would compile a 5 trillion yen stimulus package to help the economy cope with the increase.
The local currency slipped to 51.03 British pence from 51.12 pence yesterday and declined to 61.09 euro cents from 61.36 cents