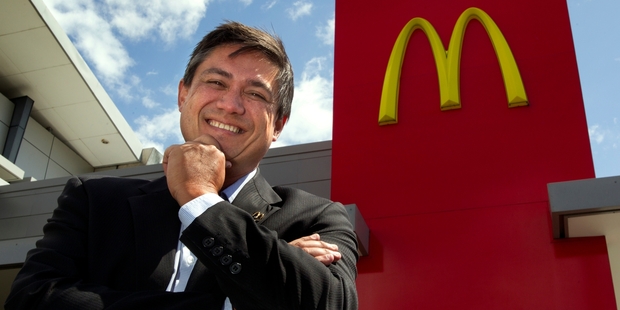 McDonald's might be one of the giants of New Zealand's quick service restaurant market, but its boss reckons there's still plenty of room for the Golden Arches to grow in this country.
Managing director Patrick Wilson said the fast-food chain, which operates 161 outlets from Kaitaia to Invercargill, would establish only one new store this year, in Canterbury's Rolleston, which opens on October 19.
But he said that from next year the firm wanted to ramp up growth to three to four new restaurants annually over the medium to long-term.
"Our focus is Auckland, Christchurch and Hamilton at this stage," Wilson said. "That's where we see the biggest opportunities."
He would not rule out eventually reaching 200 restaurants in New Zealand, adding that there may also be opportunities to relocate some stores to more up-and-coming areas.
"I see us having less reliance on shopping malls and going more towards those free-standing, drive-through type restaurants," Wilson said.
McDonald's, however, is facing opposition around the world to its expansion plans.
Residents of the small Australian settlement of Tecoma, near Melbourne, travelled to the Golden Arches' global headquarters in Chicago last month to present a 94,000-signature petition against the company's plans to build a restaurant and drive-through in the town.
There's also been opposition in India to McDonald's stores being opened near religious sites.
Closer to home, residents of Balmoral unsuccessfully opposed the establishment of a McDonald's in the Auckland suburb, which opened in 2011, citing concerns such as increased traffic, noise, loss of privacy and rubbish.
"If you're responsible and you grow at the right rate, and carefully, we think there's still some significant growth for us," Wilson said.
He said McDonald's was winning the price war in the value-conscious fast food market with offers such as its $2 Loose Change menu, but concentrating on cut-price deals alone was not sustainable.
McDonald's was promoting "iconic products" such as its Big Mac burger and the Georgie Pie brand had given the business a point of difference, he said.
The company said yesterday that the trial period of its Georgie Pie re-introduction, which began in May, had exceeded sales expectations by about 50 per cent and the concept will be rolled out nationwide.