Anand and Sarita Kumble are co-founders of Pictor, a diagnostics company with a mission to market reliable and affordable blood tests to regions of the world with the highest need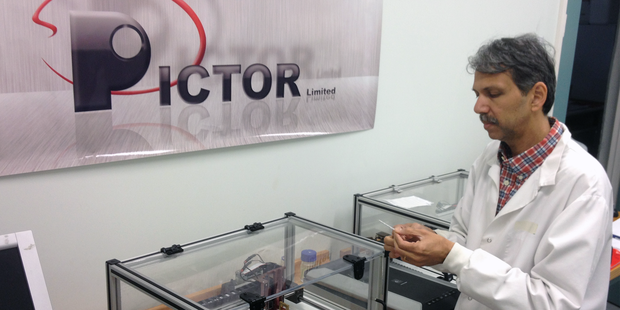 They have developed a patented technology using which eight different tests can be simultaneously performed with a single drop of blood. The test results are read on a device the size of an ipad Mini and the results are displayed in a tabular and graphical format for easy interpretation. This platform technology will be used to develop a wide range of tests covering some of the most prevalent diseases in the world.
What part has research and development played in your products and any updated versions over the years?
Pictor started operations in our family garage where the idea was developed to demonstrate feasibility. After the first year, we moved to our current facilities in Parnell and filed the technology patent. Our R&D efforts have been guided by talking to clinicians and laboratory technicians in Southeast Asia and India to determine their needs and capabilities. When we started initially, we used a test format which necessitated testing 96 samples at a time and reading the outcome on a document scanner.
We learned that in small testing centres which are dominant in these regions, the sample numbers can be small. So we adapted our platform over the next years to the two-well modules and we also designed our own reader. We are the first diagnostics company in the world to offer a seamless platform to test one sample or several tens requiring virtually no additional infrastructural costs.
We have launched an autoimmune test and a maternal infection test this year in Thailand and India. We are particularly excited about the maternal infection panel used to test expectant mothers for infections with five pathogens that cause over twenty percent of all infant deaths within twenty-four hours of birth.
How much time did you spend on R & D before launching your first product?
We launched our products in 2013, so we spent just over six years in R&D.
What sort of percentage of revenue would you devote annually to R & D? Has this changed over the years?
During the initial years we were a non-profit organization surviving on investor capital and grant funding. As revenues kick in, we plan to spend about 30 per cent of our revenues on R&D at least in the next five years. Continuing R&D is important in our field since we need to remain at the cutting edge of technology so we are not swept away with the next new thing.

What does your research and development actually involve?
Pictor has a multidisciplinary team in which biologists and engineers work together with the common goal of improving diagnostic delivery. We have several areas of R&D activity
1. Developing new test panels to increase disease coverage.
2. Improving the gathering of test results by adapting to new smart phone technologies so the test can be performed in remote areas.
3. Adapting the technology for point-of-care testing for deployment in doctor's clinics and small health clinics.
Have you applied for and received grants to help with R & D?
We have received grant support from what used to be the Foundation for Research, Science and Technology before it went through several name changes to what is now Callaghan Innovation. We have also received research support from the Cure Kids Foundation.
What advice would you give to other businesses who would like funding to help with their R & D?
The grant process is very dependent on the managers assigned to you and their interest and understanding of the projects you are working on. It is the luck of the draw on whether you get a manager who understands your business, and more importantly, the technology. That is a tall ask. We were lucky to have the right manager who championed us and was very engaged with us.
My advice to small firms seeking R&D support is for them to work closely with the grant managers and not to engage consultants. They take a significant chunk of your grant as a fee. We applied the first grant through a consultant and our experience was that we ended up providing all the information to them anyway and all they really did was re-formatt the information according to the grant application requirements. Save the money and use it towards your R&D.


Next week: For many small businesses in New Zealand, they can't find the materials to manufacture locally or there is a factory in Korea or India just doing it so well and so efficiently, that it is the best option. Tell us your overseas manufacturing stories. It can be pioneering stuff.