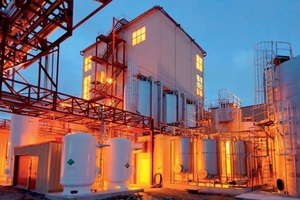 Hokitika-based dairy cooperative Westland Milk Products and the Waikato's Tatua outperformed their far larger competitor, Fonterra, for farmer payouts over the 2012/13 year.
Westland Milk, the country's second biggest cooperative after Fonterra, said its 2012-13 operating surplus for 2012/13 was $6.34 per kg of milk solids kg, before a 30c retention.
The result compares with a $6.14 per kg payout, with a 10c retention, for Westland in the previous year. Retention is when a cooperative withholds part of he farmer payout for future development.
In the North Island, the tiny Tatua Co-operative Dairy Co said its payout for 2012/13 year was $7.40 per kg of milksolids, down 10c on the previous year's. Tatua declared a pre-tax retention of $1.17 per kg, taking the total to $8.57.
The payout compares with Fonterra's cash payout, announced last week, of $6.16, which comprised a farmgate milk price of $5.84 and a dividend of 32c. Fonterra's retention was 14c.
In terms of total payout, Westland's was higher than Fonterra's. Net of retentions, Fonterra's payout of $6.16 was larger than Westland's of $6.04.
Westland chief executive Rod Quin said it the co-operative had endured tough farming and trading conditions over the year.
In spite of the impact of a major flood on South Westland, then one of the worst droughts in living memory for most of the Coast, milk volumes from shareholders were up 5.7 per cent at 621 million litres.
Turnover remained steady at $535 million, with a high New Zealand dollar dampening high market prices in the second half of the season.
Westland ended the financial year with a slightly lower equity to assets ratio than last year at 49 per cent, reflecting in part the development of new plant for the manufacture of specialist nutritional products such as baby formula.
The co-operative has moved from being a manufacturer of quality ingredients to value-added nutritional products _ such as infant formula _ which return higher prices.
Quin said Westland's new nutritionals plant will be operating to full capacity in the 2013-14 season.
Commenting on the season to date, Quin said milk volumes were 10 per cent above budget and shareholders could expect another strong year ahead.
Tatua, which is based at Tatuanui, near Morrinsville, said it put in a positive performance over 2012/13 but that the current financial year would be much tougher.
The cooperative's revenue was $229.7m, up a touch from $228m last year. Earnings were $107.4m, down from $109m a year earlier.
Tatua said the $1.17 per kg retention would ensure the company retained the financial strength necessary to invest in new plant and equipment to support its strategy of growing its specialised added value business.
"Our product mix of caseinate and anhydrous milk fat is lower returning currently than milkpowder and, if this continues for the balance of the year it will be more difficult for us to match the financial performance of the milkpowder companies,'' Tatua said.
``It is still early days but the signs are there that 2013/14 will be a less competitive year for Tatua,'' it said.
Tatua, which comprises 87 farming families, has 280 employees.