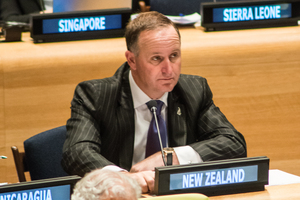 Prime Minister John Key was expected to discuss Fonterra with Sri Lanka's President this morning - the second damage control meeting he has had relating to Fonterra while on his Europe and USA trip.
Mr Key said Sri Lanka had requested the meeting with him while he was at the UN General Assembly in New York.
"I wouldn't be surprised if Fonterra came up. It's been a topic of conversation, Foreign Minister [Murray McCully] has been over there recently, and is aware of the issues and attempts to find the way through that."
He said it was largely a commercial matter for Fonterra, but Sri Lanka was a big market for New Zealand.
"My understanding is Fonterra is trying to build up a relationship in Sri Lanka. I think we will stand by because we believe the testing done in New Zealand for DCD has been accurate. But we'll see what sort of future they see."
Mr Key also met with French dairy giant Danone over the false botulism scare while in France.
There have been protests in Sri Lanka over concerns about possible DCD contamination in Fonterra products, despite New Zealand's attempts to reassure consumers that there are no health effects from it.
Mr Key also expected to discuss the upcoming Commonwealth Heads of Government meeting in Sri Lanka in November.
Canada is boycotting that meeting, largely because of human rights issues. Mr Key said he would go and did not believe it would send the wrong message or restrict New Zealand's ability to raise human rights issues.
Mr Key's address will cover a wide range of issues, including Syria, the Security Council, New Zealand's engagement with the world, and prospects of a wider relationship with Africa.
"It outlines New Zealand's case well and generally puts our proposition on the world in a concise form."
He also said New Zealand was moving to get in a foot in the door of Africa to ensure it was well placed for future trade opportunities.
He said just as Asia now had a quickly growing middle class and growing economies, he expected Africa to follow suit.
"Africa might be a bit behind that, but not very. It is very rich in natural resources, has quite arable land in a lot of places and a big population. So you can see a lot of countries start to focus on Africa."
He said New Zealand was currently focused on South Africa "but it's a huge continent with lots of opportunities."
"In years to come, New Zealand Prime Ministers and New Zealand as a whole will have a lot more to do with Africa."