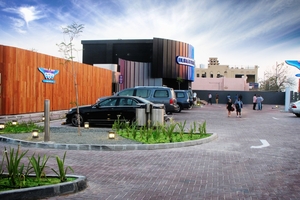 New Zealand fast food operator BurgerFuel has cut the ribbon on what it claims is the world's first gourmet burger drive-through.
Chief executive Josef Roberts said the new concept, which opened at the firm's Jumeirah Rd store in Dubai on Monday night, was an important addition to the business in a city where summer temperatures can top almost 50C and customers appreciate the option of remaining in their air-conditioned vehicles.
It would also serve as a trial for BurgerFuel to establish whether drive-throughs could be rolled out at additional stores, he said.
"It's a different area of the market where we can offer people quality food at speed and at convenience."
Drive-throughs might be introduced in New Zealand, where BurgerFuel operates 32 stores, Roberts said.
He said one of the biggest challenges of establishing the drive-through was finding a way to cook and serve burgers in less than two minutes, which required new cooking and assembly techniques.
The company said the Jumeirah Rd store, which also seated up to 100 diners, was well positioned near the entrance to Kite Beach in an area that attracted 10 million tourists each year.
BurgerFuel's master franchise licence in the United Arab Emirates, which includes Dubai, is held by Al Khayyat Investments and that firm's general manager of food and beverage, Farah George Farah, said the opening of the drive-through was a good indication of the success and strength of the brand in the Middle Eastern nation.
BurgerFuel now has 18 stores across the Middle East in the UAE, Iraq and Saudi Arabia.
The company's shares, which have gained 45 per cent in the past 12 months, remained unchanged yesterday at $1.55.