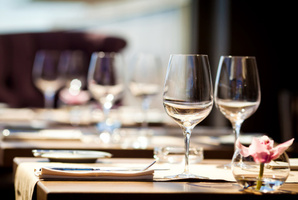 The Auckland restaurant industry, it seems is on fire with a plethora of choice available to diners, with new eateries around Wynyard Quarter, Britomart, SkyCity and in the suburbs too.
But of course some will not survive with this heady time, so I have sought out some particularly experienced restaurateurs for the columns this week who have seen good times come and go and can give some really excellent tips to newbies out there.
From New York-based chef Anthony Hoy Fong, a Mt Roskill boy who has cooked for the US President, appeared on Oprah and cooking shows across America, we hear about the trends of restaurants in New York.
We also hear from two highly experienced Auckland restaurant/cafe owners Scott Brown of Rosehip cafe and Richmond Road cafe among many others in the HIP Group and Warwick Brown, who has gone from restaurants like Mikano and Cin Cin on Quay to the popular Buttermilk cafe at Vic Park market. Brown and co-director, Jackie Grant even have a farm which will be supplying their cafes with dairy and meat in the future.
And if you have questions about how social media can be used by your hospitality business, read Shuttlerock CEO, Jonny Hendriksen's column for some interesting tips.
Meanwhile, Sam O'Connor, founder of EasyEat.co.nz, an online service which enables consumers to order takeaway from their favourite restaurant, highlights a growing trend in New Zealand following well established examples around the world.
Finally, I have come to the end of My Food Bag experience where you actually have to do the cooking yourself but all the shopping is done for you and recipes provided.It is definitely something I would do again in a busy week where I just didn't want to think about what to cook every night and everything I needed was waiting in the fridge or in the cupboard delivered on a Sunday night.
The food was beautifully fresh and high quality meats which made me wonder how they do it for the price. It is more likely I wouldn't have takeaway after a week of My Food Bag rather than it stopping me eating out. The founders of My Food Bag give an update on the new market they have created and they say they will be working more with chefs in the future to keep things interesting.

Next week:Large businesses have sizeable research and development
departments which small businesses can only dream about but you can bet that those with a big idea or two have always invested in R & D. This week I'm going to look at businesses large and small who have taken product development and research investment seriously from the beginning. Tell me your stories.