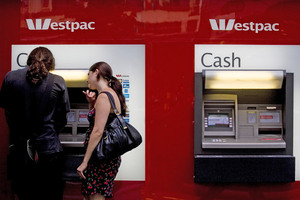 Westpac New Zealand says it has raised $800 million through a five-year bond offer - the biggest-ever domestic issue of its type from any New Zealand bank.
The issue, which was originally aimed at raising $100 million to $500 million, is equal to the biggest domestic issue from a non-government entity, made by Fonterra in 2009.
Westpac's offer of senior, unsecured and unsubordinated bonds had to be scaled back, with about $820 million in bids coming forward, said treasurer Jim Reardon.
The offer opened last Friday and closed yesterday. The final rate will be set today. The issue was priced at 103 basis points over the equivalent swap rate.
Based on today's market, the bonds would yield 5.53 per cent.
About one-third of the offer was taken up by private investors through their KiwiSaver funds or through their financial advisers, with the rest taken up by wholesale investors.
Reardon said the bank was not sure how investor confidence would be affected by the uncertainty surrounding Syria, but that it did not turn out to be factor.
"It showed the way that the bond market in New Zealand is growing and the increased impact of the KiwiSaver funds," Reardon said. "The other aspect is that New Zealanders in general over the last few years have become better savers and fixed income from quality issuers is seen as a good, safe bet."
Westpac's move coincides with signs of life in domestic and overseas bond markets over the past six months. Yields have risen, partly reflecting expectations that the world's major Western economies would soon start to wind back artificially soft monetary conditions.
"I don't doubt for a minute that the fact that the yield curve has moved quite substantially over the last six months may have played a part in the issue's success," Reardon said.
"If we were trying to do the same sort of deal with base yields 1 or 2 per cent lower - as we saw last year - then we would not have seen the same demand," he said.
Christian Hawkesby, head of fixed income at Harbour Asset Management, said the issue had been well received.
"From Westpac's point of view, it gives them access to funding from a relatively narrow credit spread," he said.
Bond yields world wide have risen sharply in recent months.
Benchmark United States 10-year bond yields which were at 1.6 per cent in May are now pushing 3 per cent, which is a big jump in bond market terms.
- APNZ