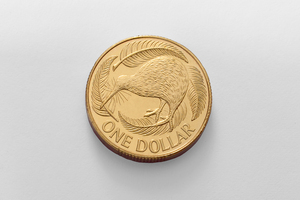 The New Zealand dollar advanced ahead of today's Reserve Bank decision on interest rates and as investors favoured higher risk assets.
The kiwi rose to 80.81 US cents at 8am in Wellington, from 80.35 cents at the 5pm market close yesterday. The trade-weighted index rose to 75.87 from 75.73 yesterday.
The US dollar index, which measures the greenback against a basket of currencies, declined as investors favoured more risk-sensitive assets as the threat of a western military strike against Syria receded after US President Barack Obama said he would pursue a diplomatic solution. Underpinning the local currency, New Zealand's Reserve Bank is expected to keep interest rates on hold at 2.5 per cent at 9am, and reiterate that the next move is up.
"Today's September Monetary Policy Statement will see the Reserve Bank of New Zealand reaffirm the Official Cash Rate is on hold through 2013, while reiterating July's tightening bias," Carrick Lucas, a strategist at ANZ New Zealand, said in a note.
"We expect the bank's interest rate projections to be revised marginally higher, though fall well short of condoning current OCR pricing."
Join us here at 9am for a live streaming of Wheeler's statement and press conference.
Traders are pricing in 89 basis points of hikes in the coming year, according to the Overnight Swap Curve.
Governor Graeme Wheeler may have a "dovish" tone, to avoid adding fuel to the currency's rise, ANZ said.
"We doubt markets will read too much into it given recent strength in the domestic data pulse," said ANZ's Lucas. "Whichever way you look at it, the RBNZ is likely to e first cab off the tightening rank - it'll just be a matter of timing and quantum."
The New Zealand dollar was little changed at 86.62 Australian cents, 80.70 yen, 60.70 euro cents and 51.08 British pence.