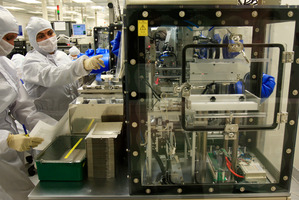 Rakon is in a very similar position today to the one IBM found itself in during the early 1990s, before the American computer giant pulled off its ultimately successful turnaround strategy, says Herb Hunt, the latest addition to the New Zealand technology company's board.
Hunt, who became an independent director of the struggling, Auckland-based components maker in November, had a career with IBM that spanned three decades - including a three-year stint as chief executive and chairman of the IT giant's operation in this country.
He drew parallels between Rakon and IBM at the former firm's annual meeting in Auckland last week.
"The turnaround at IBM, although on a much larger scale, began from a very similar position to what Rakon is in today," Hunt said.
Referring to the pre-turnaround IBM, he said: "It was a company with great technical capacity but had lost its way in terms of its ability to generate revenue growth and profit."
By the early 1990s IBM was in a very bad state as a result of losing market share to competitors such as Microsoft and Intel. Under the leadership of chairman and chief executive Louis Gerstner, who took IBM's helm in 1993 after the company reported one of the biggest annual losses in US corporate history, the company moved its focus away from personal computers towards higher-margin software and IT services.
One of the biggest challenges facing Rakon, whose shares have slumped around 50 per cent over the past 12 months, is the commoditisation of crystal oscillator products it supplies to manufacturers of smart wireless devices such as smartphones and tablet computers.
The firm, which posted a $32.8 million loss in its last financial year, blames a major price decline for those products on a huge devaluation in the yen, which enabled its Japanese competitors to drop prices.
In response, the company is selling an 80 per cent interest in Rakon Crystal Chengdu - the Chinese manufacturer it commissioned in 2011 to produce components for the smart wireless device market - and is refocusing on three other markets: global telecommunications infrastructure, the avionics, space and defence industries, and specialised global positioning system devices.
Last week chairman Bryan Mogridge said Rakon was performing well in markets outside of the smart wireless device segment and earnings continued to be positive.
There was no benefit to be gained from innovation in a commoditised market, Hunt said.
"Fundamentally, if you're Apple or LG or one of these large companies you want to buy a commodity component that you can buy from more than one supplier and you want to buy it at the lowest price."
But while IBM made its turnaround under a new leadership, at Rakon the old guard is still very much in control.
The Shareholders Association opposed the re-election of Mogridge and executive director Darren Robinson at last week's meeting on the grounds the firm had "lost credibility". Despite the opposition, both board members were re-elected.
Rakon has copped flack in the market for the level of representation its founding Robinson family - which owns roughly 23 per cent of the company - has on the board. Warren Robinson, who established the company in 1967, and sons Darren and managing director Brent hold three of the eight board seats.
Rakon is anticipating a $54 million net loss for the year to March 31, 2014. Of that loss, $37 million was expected to stem from investment and asset impairments involved in selling the stake in its Chinese manufacturing operation, while the remaining $17 million would come from trading results.
Based on the changes it is now making, Rakon is anticipating a return to profit in the 2015 financial year.