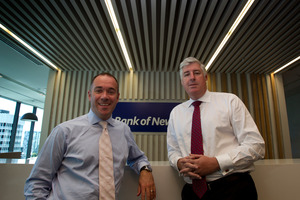 National Australia Bank boss Cameron Clyne believes the key to tapping into trade in China is patience.
Clyne, who was in New Zealand this week to visit subsidiary the Bank of New Zealand, said Asia was a big focus for the bank.
"We have had a long-standing presence in Asia. We have been trying to work out what the right roll-out strategy is."
Clyne said many of its customers in Asia were talking about investment into Australia and New Zealand.
"There has been interest right across the spectrum. Institutional investors are attracted to certain asset classes."
The bank was also benefiting from immigrants wanting to set up businesses in New Zealand and Australia and education-led business.
Clyne said its expansion into Asia was also being driven by local businesses keen to move into China.
"It's a measured roll-out following what customers are doing."
Clyne said the market had its challenges.
"The market is clearly quite staggering in size. The growth rate of China is effectively adding a Korea every year."
It was inevitable that mistakes would be made, he said. "It's something we have to be prepared for."
A key to the market was finding trusted partners, Clyne said. The bank is then able to link its Australasian customers to those partners and then likewise receive business from them.
"Our partners see us as partners not competitors."
Clyne said the bank was also seeing potential in India. "If you take a 30- to 50-year time horizon which we know is challenging - India has very strong demographics and strong rule of law, education. It's at a bit of a tipping point and if it realises its potential it's a more attractive long-term market than China."
Bank of New Zealand chief executive Andrew Thorburn said it had recently appointed an India business manager following on from a focus on Asia and Maori business segments of the market.
"That community is a bit smaller, but we think there is probably a number of Indian immigrants running small businesses with export potential. It is small but it has got significant potential."