Progressive Enterprises boss sees room to expand.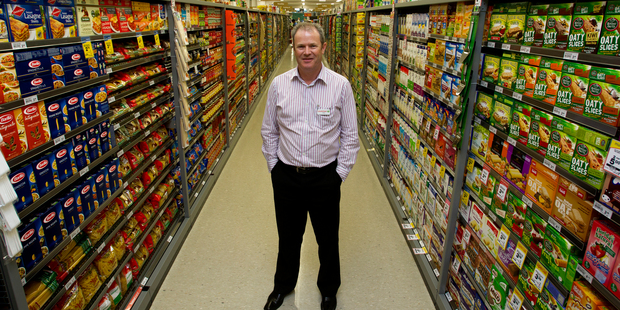 It can seem as if a new supermarket is popping up on every second street corner these days and local grocery giant Progressive Enterprises has aggressive plans to continue increasing its store footprint with five new Countdown stores set to open in its current financial year.
The company, owned by ASX-listed Australian supermarket operator Woolworths, runs 166 stores in this country, employs more than 18,000 staff and posted normalised sales of $5.75 billion in the year to June 30.
The five new stores will open in Auckland's Lincoln Rd, Dargaville, Wellington's Churchill Drive, Amberley in North Canterbury and Christchurch's Ferrymead (a replacement of an earthquake-damaged store).
That follows the eight stores Countdown opened in its last financial year, including sites in Mt Roskill, Silverdale, Warkworth and Manurewa.
Managing director Dave Chambers said the food retailer also hoped to open stores in Coromandel's Whitianga and Taranaki's Stratford within the next 18 months.
It was difficult to say exactly what point the market would become saturated and Countdown would be unable to open any more stores, Chambers said.
"We've still got a lot of room to grow."
Chambers said "semi-rural" regions were a focus of Countdown's expansion strategy.
"We don't have a presence in Central Otago so we've got lots of places where we can go."
Chambers doesn't mention by name Countdown's main competitor Foodstuffs - the locally owned operator of New World, Pak'nSave and Four Square stores that has just completed a merger of its Wellington and Auckland divisions into a single North Island operation.
"There isn't a relationship [between Foodstuffs and Countdown] and there shouldn't be one," Chambers said. "I'd call it a pretty healthy competitive tension."
He doesn't accept the accusation that Foodstuffs and Countdown operate a duopoly in the grocery market.
Foodstuffs, meanwhile, is also in expansion mode. In July the North Island division of the company said it had a $100 million new store development and refurbishment programme underway.
According to Statistics NZ, grocery and supermarket retail sales reached $4.2 billion in the March quarter and annual spending hit $17 billion.
Supermarket ad complaint
Countdown says the Commerce Commission is investigating television advertisements run by rival supermarket operator Pak'nSave that compare the prices of goods purchased at the two major grocery chains.
A Countdown spokeswoman said the advertisements exaggerated the savings provided by Pak'nSave.
"It's fair to say that we do have concerns about the clarity of comparative advertising - given the daily fluctuation in prices and the differences in prices across the country - and it's important shoppers aren't misled by exaggerated savings claims," the spokeswoman said.
One of the comparative adverts claims a basket of goods purchased at Pak'nSave's Wairau Rd store in December was $34.91 cheaper than the same basket of items bought at a Countdown store.
But Pak'nSave's operator, Foodstuffs, is standing by its marketing campaign.
Katherine Klouwens, group communications manager for Foodstuffs New Zealand, said the advertisements had been constructed with great care to ensure their accuracy.