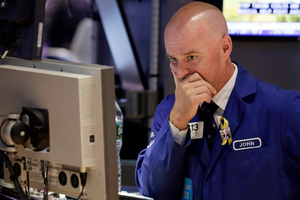 The New Zealand sharemarket is likely to follow international markets down if the West takes military action against Syria but the real concern is if war were to spread to other nations, spiking up the price of oil, market watchers say.
Grant Williamson, a director at Hamilton Hindin Greene, said any international conflict weighed on equities, but it could be short-lived. "Markets tend to go down as soon as the first missile hits the ground and then start going up again."
But Williamson said the concern was whether military action would spread to other Middle Eastern countries like Iraq, which could affect the production and transportation of oil.
"The major concern is the oil price," he said.
"The markets are a little bit nervous about it [Syria] but it's nothing too serious. Investors will be hoping for a quick solution and a return to normal."
However if the price of oil were to spike above US$120 a barrel it could cause some concern, he said.
US benchmark oil for October delivery rose 1 per cent yesterday to US$110.10 a barrel on the New York Mercantile Exchange.
Bernard Doyle, an investment strategist at JBWere, said US$120 a barrel was a tipping point for adverse economic impacts.
"Then it's a question of how long before it starts to spill over into consumer confidence."
Doyle said the economy was in a pretty good shape and a single negative event was unlikely to change that but there were a number of events coming up in the next month that could result in more negative impacts for the market.
"Even in a serious disruption to a medium-sized oil producer, equities will get over it. For this to turn into a sell-off worth remembering, we will need a confluence of events that swing against us. Unfortunately, the calendar between now and year end is laden with candidates."
Doyle said those events included the German election, an announcement about tapering by the US Federal Reserve next month, ongoing pressure in emerging markets like India and Turkey and another round of debt-ceiling renegotiation likely to be needed in the US by October.
"None of these look overly intimidating in isolation - but markets live off cumulative impact.
"As long as market jitters don't get too out of hand we will probably be okay. Our feeling is this will probably throw up some reasonable buying opportunities."
Those stocks typically affected by oil price rises included airlines and retailers, which could come under pressure if discretionary spending shrinks from higher prices at the petrol pump.
Highly liquid stocks could also be hit, he said.