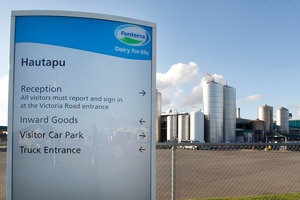 Fonterra Shareholders' Fund units rallied when they came off a trading halt yesterday after tests of some of its whey products proved they did not contain botulism-causing bacteria.
The units shot up by 24c to $7.12 early in the session after the announcement from the Ministry for Primary Industries that tests for the offending bacteria had come back negative. At that price, the units were level with where they traded before the contamination news first broke on August 3. By the close they had dropped back to $7.05 - up 17c.
The initial rise in the units probably reflected relief after concerns about the product proved to be ill-founded.
Later, investor appetite for the units waned on the realisation that big changes might lie ahead for Fonterra, and the industry as a whole, as a result of the scare, said one sharemarket analyst.
"We have tended to take the view that it [Fonterra] is fairly fully priced up here," said Matt Goodson, managing director at Salt Funds Management.
"This debacle has been far more important for the country, rather than the [unit] price."
The co-operative this week raised its forecast farmgate milk price to farmers by 30c to $7.80 a kg of milk solids. A higher milk price represents a higher cost to the manufacturing, or dividend-paying, side of Fonterra and should theoretically put downward pressure on the unit price.
The Ministry for Primary Industries' acting director-general, Scott Gallacher, said the ministry's investigation would centre on what happened between March 2013 - when testing detected traces of the bacterium clostridium - and August 2, when the ministry was first told of the potential contamination.
"That is clearly something that the ministry is focused on getting to the bottom of in the context of an investigation and clearly it will also be in play in the context of the ministerial inquiry," Gallacher said on Radio New Zealand.
David Stanley, director of equities research at Woodward Partners, said that while the market was relieved that the contamination scare proved to be a false alarm "it is quite clear that some issues will need to be addressed".
"In a way, we are now left with more questions that we had before."
Stanley said the investigations underway could play an important role in the future of the New Zealand food industry.
Fonterra's head of communications, Kerry Underhill, said the co-operative would now focus on communicating with its customers and on the business, now that the scare is over. "'In some markets there will be the need to rebuild customer confidence."
- APNZ