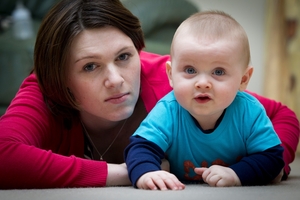 When Nutricia's Karicare infant formula was recalled, Auckland mother Hayley Nieuwoudt vowed never to feed her 7-month-old son, Eric, the brand again.
She switched to Singapore-produced formula brand S-26 and - despite yesterday's revelation that the contamination scare was a false alarm - has no intention of returning to the original choice.
"I said at the time I am not going to use that brand again, and I am still not going to use that brand again - it is just ridiculous," she told the Herald.
The Ministry for Primary Industries said yesterday that the bacterium believed to be botulism-causing clostridium botulinum was in fact clostridium sporogenes, which is not capable of producing botulism-causing toxins.
"I get that they had to come out and tell everyone that it could be possible and frighten us all, but what made it worse was they were unsure about it all and weren't even being transparent," said Mrs Nieuwoudt.
"Now they are saying they read it wrong. Bloody hell, do your job."
Mrs Nieuwoudt said the S-26 formula, which is listed as being made from New Zealand and Australian products, was much better for Eric.
"He used to have this rash behind his ear and now it's gone."
She believed some of her friends would switch back to Karicare.
"I understand that Karicare is its own company and Fonterra just made some of the product but if you're going to partner with someone and they are not going to do their job properly, well, it's not my problem that they have damaged their brand."