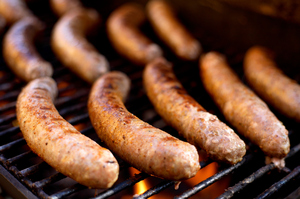 A barbecue fire which frightened residents at a retirement village, destroyed the barbecue and caused $1000 of smoke damage led to a chef being rightly sacked, the ERA has found.
Pramendra Kumar, known as Bobby, left a lit barbecue unattended outside the dining room at the Fairview Lifestyle Village in Albany, Auckland, on February 22.
The Employment Relations Authority (ERA) heard the fat tray under the barbecue caught fire, which one elderly resident described as "very scary".
The barbecue was so badly damaged that it could not be used again, and the wall outside the dining room suffered more than $1000 of smoke damage.
Catering company Spotless Facility Services, which employed Mr Kumar, alleged that leaving the barbecue unattended posed a serious health and safety risk to the aged care residents, some of whom suffered from dementia.
The company concluded Mr Kumar had engaged in serious misconduct, and summarily dismissed him.
The ERA heard conflicting evidence from Mr Kumar and Spotless, but found in favour of the company's version of events.
Mr Kumar had been tasked with preparing a barbecue meal for 18 aged care residents, as well as delivering pre-prepared meals to hospital residents.
He gave four completely different explanations as to why he left the lit barbecue unattended - from leaving it only momentarily, to leaving it for up to 25 minutes while he delivered the hospital meals.
Mr Kumar gave evidence that the barbecue had caught fire on previous occasions and it needed to be properly serviced and cleaned.
He also claimed to have raised concerns with his manager, Rashid Davids, that it was too windy to barbecue on the day.
But Mr Davids said Mr Kumar never raised any safety concerns, neither before nor after the fire, and had tried to downplay the incident.
The retirement village's manager, a former Fire Service chief, said there had been no previous barbecue fires, and he would definitely have heard about a fire had there been any.
ERA member Rachel Larmer said she found Mr Kumar's evidence unconvincing, and the decision to dismiss him was justified.
"I consider leaving an unattended fire in such circumstances is a serious issue and I can understand why Spotless concluded that Mr Kumar's actions in lighting a barbecue and then leaving it completely unattended amounted to serious misconduct."
No costs were sought.
- APNZ