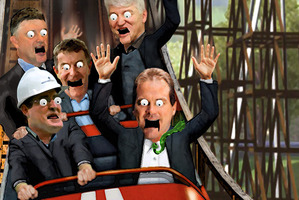 It's been a good year for many investors in the New Zealand stock exchange, with the NZX50 up more than 20 per cent. See the top test best performing shares here.
But not every company has shared in the success seen by the likes of Xero, or Ryman Healthcare.
Here we've put together a list of the ten worst performing shares on the NZX this year.

But it's been a tough year for some of New Zealand's listed companies - while the market itself is up for the year, some just haven't been able to catch that wave.
Retailer Pumpkin Patch takes the prize for the worst performance - down 35.5 per cent since the start of the year.
Shares in the children's clothing chain hit an 18-month low in June when the company said full-year profit might drop as much as 35 per cent in the face of intense competition in Australia.
Just yesterday the company named its merchandise and brand director Di Humphries had been appointed chief executive, effective immediately.
The second worst performer, Oceana Gold owns and operates New Zealand's largest gold mine, Macraes (Open Pit and Frasers Underground) and Reefton Goldfields. In June it announced it would "mothball" its Reefton mine by 2015 due to the declining price of gold.
The third worst performer has been rural supplies company PGG Wrightson. Wrightson's major shareholder Agria has struggled to meet its financial commitments to Livestock Improvement Corp and LIC's boss Mark Dewdney was appointed chief executive of Wrightson after the surprise resignation of George Gould earlier this year.