Dairy products and logs contribute, and other shipping lines fill void left by Maersk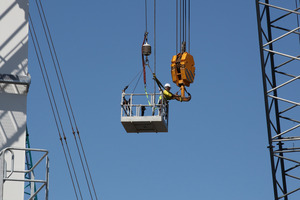 The Port of Tauranga built on its already strong earnings performance with another record profit yesterday, with shipping line Maersk's decision to put more containers through Auckland having no impact on its earnings.
Underlying net profit rose by 5 per cent to a record $77.2 million in the June year, reflecting tight cost control and growth in its container and bulk cargo business.
Bottom line net profit rose by 52 per cent to $112.1 million from $73.5 million a year earlier, lifted by strong earnings from associate companies and a $38.2 million profit on the sale of its half share in freight logistics company, C3. Port of Tauranga announced a final dividend of 26c a share, raising its full-year dividend payout by 18 per cent to 46c a share.
Total freight transported across the port grew by 3 per cent to 19.1 million tonnes, with growth in exports - particularly in dairy products and logs - more than offsetting a decline in import tonnages.
In May, shipping line Maersk said it would resume its Southern Star service to Auckland, after diverting to Tauranga at the height of the port's bitter dispute with the Maritime Union in December 2011.
Port of Tauranga chief executive Mark Cairns said the decision meant the loss to the port of around 20,000 import containers but that the deficit had been quickly replaced by other shipping lines calling.
Despite its strong earnings outcome, shares in the company fell by 35c (2.4 per cent) to $14.35.
Fund managers said some analysts had seized on the decline in container traffic between the first half and the second half, while ignoring the fact that the first had been temporarily inflated by the strike's after-effects. Cairns said container growth grew by 7 per cent in the year at a time when the container trade was growing by just 3 per cent globally.
Port of Tauranga is about halfway through a large capital expenditure programme. It expects to spend $214 million in capex over the next three years. Dredging is expected to start next year. Upon completion, the port will be the only one in New Zealand capable of handling big ships of 5000 to 6000 teu at low tide.
Cairns said its recently announced 50/50 joint venture with Timaru's PrimePort was the company's most significant move since it set up its Metroport in Auckland in 1999.
In the big picture, New Zealand has 13 ports with nine vying to become international container hub ports.
"There will be some consolidation, as night becomes day."