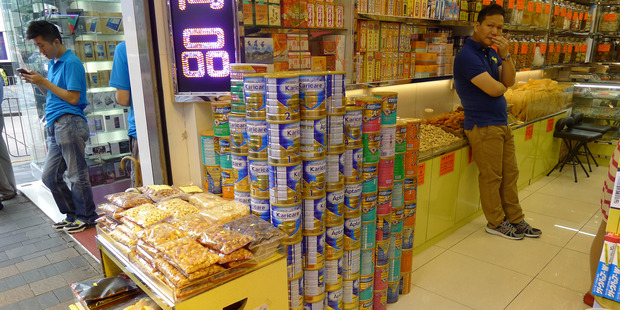 More than two weeks into Fonterra's botulism contamination crisis, New Zealand-made Karicare baby milk commands pride of place in many Hong Kong retailers, despite the brand being drawn headlong into the international food safety scare.
In the steamy, crowded streets of Kowloon's Tsim Sha Tsui shopping district, more than a dozen stores are displaying towers of Karicare infant formula at their entrances.
It would be easy to assume that consumers in this former British colony wouldn't be touching the brand.
Only two Karicare products - Stage 1 new baby and Stage 2 Gold+ follow on - made between May 21 and August 3 are now suspected of being contaminated with bacteria that can cause botulism and subject to a recall.
But then again, East Asian consumers are more sensitive than most when it comes to food safety scares and there are plenty of other brands available in Kowloon.
At first I feared the stores might be trying to flog off recalled products. But I checked the production dates on quite a number of Stage 1 new baby and Stage 2 Gold+ products and none of them were produced during the affected time period.
Most of the cans, which retail in Hong Kong for between HK$200 ($31.70) and HK$250, were manufactured in Auckland in early May.
It's possible stores in Hong Kong are trying to offload large stocks of Karicare that are unwanted in the mainland Chinese market.
Hong Kong is a transit point in a complex supply chain that transports Karicare from New Zealand to mainland China where it enters that country's grey market and is sold online.
Here's how it works: Karicare's manufacturer, Nutricia, sells the infant formula to supermarkets.
A number of Countdown and Gilmours wholesale stores are authorised to sell dairy products to registered exporters.
Those exporters purchase Karicare in bulk from the supermarkets and ship it to Hong Kong.
Karicare made for the New Zealand market is allowed to enter Hong Kong, but not China, as the Chinese authorities require infant formula sold in that country to meet specific standards. But an entire industry is said to exist in Hong Kong that specialises in getting imported formula over the border into the mainland - the world's biggest baby milk market - through unofficial channels.
Nutricia makes Karicare specifically for the Chinese market that passes officially into China. Those products are not affected by the recall.
However, from browsing the shops in Tsim Sha Tsui it's plain the Karicare on sale is manufactured for Australasian parents, not those in Hong Kong or China. The freecall helpline numbers printed on the cans are for customers in New Zealand and Australia only.
My inquiries as to the level of demand for Karicare usually received an answer from the Hong Kong shopkeepers that went along the lines of, "Yes, it's good. How many do you want?"
So I devised a test.
After buying a can of Karicare from one retailer for HK$200, I went to another store and offered to sell it to them at a discounted rate of HK$100.
After looking at me as if I was quite mad, the shopkeeper accepted the offer.
If there isn't any real demand for Karicare in Hong Kong - and these stores are simply trying to offload product that's unwanted following the botulism scare - then surely the shopkeeper wouldn't want to burden himself with another can.
Maybe he just can't resist a good deal.
Either way, it still remains unclear how much potentially contaminated Karicare is floating around in Hong Kong and mainland China.
At a press conference at Nutricia's Auckland headquarters this month, managing director Corine Tap was unable to give an estimate on how much of the recalled Karicare could be in China.
And she couldn't give any details on the proportion of Karicare sold officially in China versus the unofficial trade.
The Fonterra scare has shown that complicated, shadowy supply chains - such as the one that transports Karicare from NZ supermarkets to China - are highly undesirable when a food safety crisis erupts.
Christopher Adams is visiting Hong Kong as a guest of ANZ.