More skilled graduate specialists are needed to cope with infrastructure projects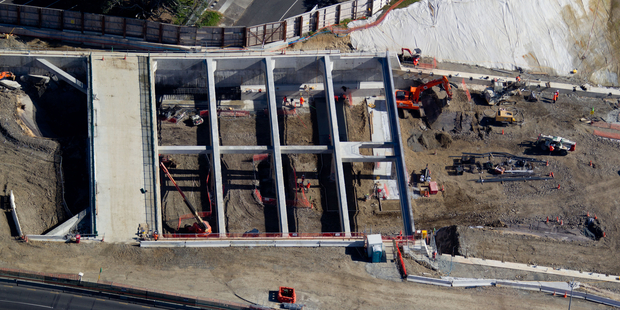 Infrastructure projects are getting bigger and businesses are increasingly laying down their rivalry and co-operating by forming alliances to score jobs, an industry boss says.
Graham Darlow, chief executive of Fletcher Construction, New Zealand's largest building business, says projects like Wellington's Transmission Gully, Auckland's second harbour crossing and the Waterview motorway are so complex and resource-needy that alliances are the only way to tackle them.
"These projects are of such a size that we team with the competitors in joint ventures.
"There are usually issues around capacity so with Waterview, we're with McConnell Dowell [Constructors] because they are the number one tunnelling organisation and with Transmission Gully, we're with Fulton Hogan because they're very good road builders," Darlow says.
"That's how we choose a partner. We approach each other, we scope up the work, decide what's involved and talk to the client.
"We ask if they want a single organisation or will accept a bid from multi-parties. We also often team with designer partners like Beca [Infrastructure] or Tonkin and Taylor and that's part of the requirement by the client," he says.
But therein lies a big issue for the infrastructure sector.
Darlow says many of the businesses involved in big jobs face resourcing issues and New Zealand generally is not turning out enough university graduate specialists to undertake the amount of infrastructure work the country needs, particularly in Auckland, Wellington and Christchurch.
"Designers are getting worried about their capacity around Christchurch in structural engineering and geotechnical engineering. I think the universities are doing a good job to gear up but also - like we saw from 2003 to 2007 - quite a number of people are being imported from other countries."
Auckland University is developing a new campus in Newmarket where it will initially teach only engineers, as part of its $1 billion decade-long expansion drive.
In an indication of the importance of this discipline, engineering post-graduate students will be the first to move to the ex-Lion Breweries site towards the end of next year.
Peter Fehl, Auckland University's property services director, says engineering will spread across so much of the Newmarket site simply because of its sheer importance, as well as years of little spending at existing city campus facilities.
"We have to do this because the engineering faculty has had very, very strong growth in undergraduates and post-graduates and this is part of the Government's science, technology, engineering and mathematics skills drive, the backbone of an innovative and productive economy," Fehl said.
Contractors working for ex-owner Lion Breweries last month began demolishing buildings between the Khyber Pass Rd entrance and the no-exit Suiter St, the university handing that job over because specialist skills were needed to remove technical equipment.
This month, contractors began work on three existing central-site warehouses, to be reclad and fitted out for the move of staff and students from the city campus. A new building will house more research equipment, including a large structures-testing laboratory (which will carry out the earthquake testing, among other things).
The main entranceway will be off Park Rd at the western or Auckland City Hospital end.
Fletcher's Darlow says staffing for huge infrastructure projects will draw on a local workforce initially, then the net will be thrown wider.
Fletcher EQR will initially employ Cantabrians, then New Zealanders but after that, is looking mainly to Ireland and Scotland for specialist skilled workers to cope with the enormity of that job, Darlow says. Staff are also coming from South Africa and the United States.
"It's a challenge, getting the resources for Christchurch with skilled workers."
Waterview's Well-Connected Alliance is the NZ Transport Agency, Fletcher Construction, McConnell Dowell Constructors, Parsons Brinckerhoff, Beca Infrastructure, Tonkin and Taylor, and Japanese construction company Obayashi Corporation.
Darlow says such collaborations draw on the strengths of each business to complete the job in the most efficient way.
Quantity surveying is another area where more graduates are needed. "Gearing up for PPPs will also require more specialist, skilled staff," Darlow said.
His comments might send signals to school leavers, vocation and career experts to direct people into those fields.
Not only does New Zealand need more engineers and quantity surveyors, but their skills are highly portable internationally.


Fletcher Construction prospects - projects it hopes to win
• $156m South Pacific Games Facilities, Papua New Guinea (2013)
• $310m SkyCity International Convention Centre (2013)
• $650m Christchurch Hospital (2014)
• $90m Mayfield Irrigation (2014)
• $900m Transmission Gully PPP (2014)
• $130m Mangere Treatment Plant Upgrade (2014)
• $100m Domestic Terminal, Auckland Airport (2014)
• $160m Engineering Faculty, Auckland University (2014)
• $300m Christchurch Convention Centre (2014)
• $900m Auckland City Rail Link (2015)
• $300m Christchurch Justice Precinct (2015)
• $400m Christchurch Commercial Precinct (2015)
Source: Fletcher Building, NZX.