The Waterview Connection is crucial to the city's future, reports Anne Gibson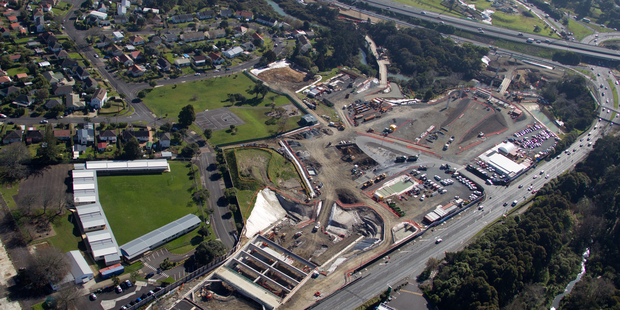 The biggest current infrastructure job being carried out in New Zealand is the $2 billion State Highway 20 Waterview Connection, now under way in west Auckland.
It will join up State Highways 16 and 20 by creating a new 4.8km, six-lane motorway, half of which will run underground.
Graham Darlow, chief executive of Fletcher Construction which is part of the Well-Connected Alliance building Waterview, says this project is unusual for a number of reasons.
"It's the biggest single construction and engineering project we've seen. Christchurch's repair of houses is a bigger project by value, but it's 80,000 homes whereas Waterview is one project."
Waterview is a good example of the sheer complexity of new infrastructure jobs, with work being carried out in a tightly constrained urban environment where many people are living.
The NZ Transport Agency says Waterview is crucial for Auckland.
"This link will complete the Western Ring Route, at last giving Auckland an alternative to State Highway 1 and the harbour bridge for travel through and within the region.
"The Waterview Connection will also create a direct motorway link between the central business district and Auckland International Airport. It is New Zealand's biggest road project."
The agency says the project is being built because of Auckland's population, employment and growth projections.
"Boosted by economic growth, tourism and immigration, the population of the Auckland region is projected to grow to two million people within the next 25 years, an increase of over 40 per cent in the current population. This is the equivalent to a city the size of Dunedin being added to Auckland's population every four to five years," NZTA says.
Waterview is the final piece to be slotted into the jigsaw puzzle. It finishes the Western Ring Route, a 48km motorway designed to give an alternative to State Highway 1 between Albany and Manukau City via SH20, SH16 and SH18.
It will bypass the city to the west and link Manukau, Auckland, Waitakere, and North Shore cities.
Many of the individual projects that make up the Western Ring Route are completed (SH18 Upper Harbour Bridge Duplication, SH18 Greenhithe Deviation, and SH20 Mt Roskill Extension) or in construction and expected to be completed in 2021 (SH18 Hobsonville Deviation, SH20 Manukau Extension, and SH20 Manukau Harbour Crossing).
The Waterview Connection is creating two three-lane bored tunnels under the Avondale Heights residential area to Great North Rd adjacent to the Oakley Creek Reserve.
"From here the tunnels will be built by cut and cover construction to cross under Great North Rd emerging at Waterview Park, where SH20 will then connect to SH16 at the current Great North Rd interchange," NZTA says.