Large-scale projects at home and overseas keep the infrastructure division busy, writes Anne Gibson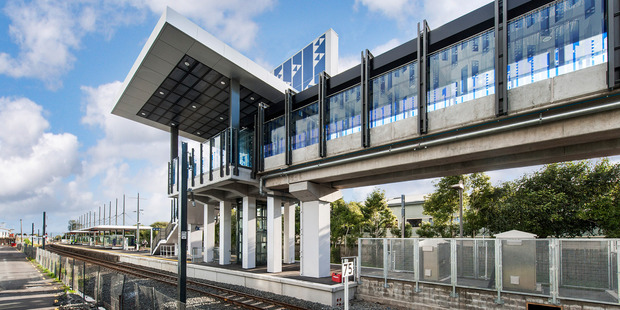 Practising stitching wounds using a piece of meat from the kitchen was one of the skills Hawkins Group chief executive Geoff Hunt remembers when Kordia staff went to a remote Papua New Guinea island province.
In an emergency situation on Western New Britain, staff needed to be equipped to cope, he remembers.
So the former CEO of the state-owned communications and broadband company says they undertook an intensive one-week first aid course before going to remote hilltop and mountain areas to work on microwave and mast equipment.
Hawkins staff will also be going to Papua New Guinea, after the business won a $90 million contract to build a four-lane highway, including a flyover, from the airport into Port Moresby, a 2.2km road 600m wide.
"In my previous role at Kordia, we undertook a project in PNG and part of the preparation was understanding the situation there and making sure you put measures in place so it's safe for the staff to work.
"In the remote areas there was a fear that if there was an injury and the weather closed in, people needed to cope in a medical emergency. The crew had done a one-week intensive first aid course and were given pieces of meat to put in a cut into, so they could sew it up," Hunt recalls.
Under his leadership, Hawkins has just won the Kookaburra Rd Project to connect Sir John Guise Drive to Hubert Murray Highway with a flyover at the Rima junction in Port Moresby.
Hunt sees more international work coming Hawkins' way because he says one of the biggest challenges of running a large infrastructure business is winning a steady supply of new business.
Hawkins, with a turnover around $500 million to $600 million annually, only created its infrastructure division a few years ago, Hunt says.
Hawkins Infrastructure now has a big range of projects around New Zealand.
• One of its largest is the Auckland rail electrification project for KiwiRail, a joint venture with Australian engineers Laing O'Rourke, installing 3433 foundations and mast structures to support overhead power lines above about 196km of existing rail track from Papakura through Newmarket and out west to Swanson. The partners are installing 5000m of buried cables.
• Down on Auckland's waterfront, Hawkins Infrastructure has just finished the Daldy-Halsey Street Scapes project for Auckland Council-owned Waterfront Auckland.
That new Wynyard Quarter shared space along Halsey St and Daldy St involved workers initially digging down 5m to install drainage in the challenging environment which was heavily contaminated and subject to tidal ground water. Staff installed tree-pits which required excavation down to 2m and also put in paved areas, treated concrete finishes, lighting, service ducting, street furniture and realignment of the dockland tramway.
• The Domain watermain project for Watercare involves the installation of 1300m of 667mm OD cement-lined steel watermain from Boston Rd, Mt Eden to the Domain Reservoir beside the Auckland War Memorial Museum. The Domain Reservoir is a critical asset for storage and supply of water to the CBD and the new watermain has been designed to provide an alternative feed to the reservoir, greatly increasing security of supply to the CBD.
• The 1.9km Grafton Gully cycleway is an extension of the northwestern cycleway. When completed, it will provide about 15km of almost all off-road access for cyclists biking from central Auckland to Te Atatu. The $11 million extension is part of the city centre master plan to connect the city centre with suburbs and the NZ Transport Agency's objective to provide viable alternatives to cars to reduce road congestion.
• Kumeu and Riverhead watermain project will provide a new water pipeline which will be the main bulk supply line to a new reservoir. The pipe line runs 3.5km beneath Old North Rd and is being constructed out of 12m lengths of 426mm OD concrete lined steel pipe, joined by a 6mm fillet weld. Work started on Old North Rd on March 27 and was due to finish on August 7.
• The Papakura Station development for KiwiRail required work next to a live rail lines and an operational station that was kept functional throughout the duration of the job. "More than 500 lineal metres of new platform was built with associated shelters and walkways, lifting the existing heritage station from the island platform onto the newly expanded roadside platform, refurbishing it to meet the client's requirements and construction of a new bus interchange. The scope of works included site establishment, demolition works, refurbishment of the historical station including roofing, drainage, excavation, retaining wall construction, new track formation, piling, installation of shelters, canopies and mechanical, electrical, fire, data and communication services and utilities," Hawkins says.
• The Mt Albert Station job for Auckland Transport resulted in the new station opening on July 6. A footbridge was removed and a new link bridge, concourse and lift shaft were built. Foundation works included piling, ground beams precast columns, beams and cast in situ slabs. New shelters, platform extensions, lighting, seating, signage, tactile surfacing, ducting, drainage and all finishing works were part of that job.
• The Wellington Zoo project for Wellington City Council involved construction of the new Asia precinct including the new sun bear enclosure and refurbishment of the existing tiger enclosure. "The works encompassed the construction of the sun bear holding building, two new covered viewing platforms, a boardwalk connection to existing structures and the new public open space and pathways. The project contained a number of innovative ideas, including the use of sustainable construction materials. Timber structures were constructed from renewable New Zealand radiata pine. Recycled fill and aggregate from existing stockpiles was used throughout the site where possible to create a minimal/no waste project. The banks were construction from an engineering fill and recycled fill combination," Hawkins says.
• The Ngatamariki Steamfield project for Mighty River Power saw Hawkins being responsible for the design, procurement and construction phases. "This incorporated various trades such as civil and earthworks, mechanical, electrical, controls and instrumentation, trenching and pipe insulation," Hawkins says. "The works consisted of the pipeline design, including the production of hot and cold injection systems, construction of a 7m-wide corridor for the pipeline involving land formation and stabilisation, construction of six well pads, installation of approximately 6km of steel pipeline ranging from 450-900 nominal bore, installation of equipotential bonding along pipeline, construction of nine water storage and soakage ponds ranging from 100m3 to 6000m3 including all pond lining installation, trenching and installation of the HDPE cold injection system, electrical controls and instrumentation works at all well pads, installation of pipeline insulation and pre-commissioning of the pipeline and plant commissioning assistance."