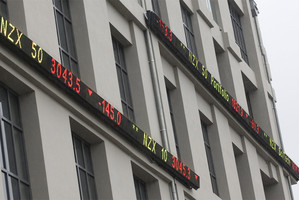 AMP posted a 10 per cent drop in first-half underlying earnings, beating its guidance in June when the dual-listed financial services firm warned its wealth protection business struggled in the second quarter.
Separately, AMP said Craig Meller will take the top job next year.
Earnings fell to A$440 million in the six months ended June 30, from A$488 million a year earlier, the Sydney-based company said.
That was just above the A$415 million to A$435 million range AMP forecast in June when it faced poor claims and policy lapses in its Australian wealth protection unit. That unit reported a 52 per cent slump in earnings to A$64 million.
Net profit rose to A$393 million, or A13.5c a share, from A$373 million, or A13.1c, in 2012.
Investment revenue, which includes unrealised gains, jumped 36 per cent to A$6.49 billion, while life insurance premium revenue edged up 3.2 per cent to A$1.1 billion and fee revenue rose 5.2 per cent to A$1.17 billion.
The board declared an interim dividend of A11.5c a share, down from A12.5c in 2012.
The shares on the NZX closed up 24c yesterday at $5.39.
The firm's directors also appointed Meller as AMP's next chief executive, effective from January 1 next year when incumbent Craig Dunn retires.
Meller has been with AMP since 2001, and is managing director of AMP Financial Services, a role he has held since October 2007.
The Australian wealth management earnings rose 20 per cent to A$196 million in the half, Australian mature earnings gained 12 per cent to A$85 million, and New Zealand financial services 21 per cent to A$46 million.
AMP Capital boosted earnings 13 per cent to A$51 million.