Vector's new technology could have far- reaching effects, reports Fran O'Sullivan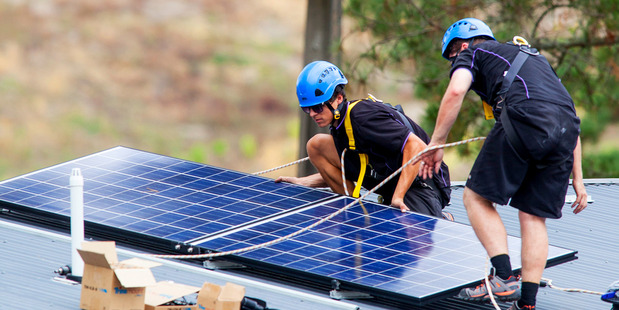 Here's a projection. New Zealanders' rapid uptake of the innovative smart solar and battery technologies that Vector is now rolling out in Auckland promises to forge a revolution not just in the residential space but also across business.
Vector chief executive Simon Mackenzie is loath to put on public record just how many Aucklanders have already stumped up the $2000 upfront cost to install solar panels coupled with lithium ion technology batteries to optimise their electricity usage since the scheme was launched in January. But it is ahead of internal projections.
Vector has also undertaken large-scale commercial solar installations at companies such as Auckland's Hubbard Foods and for the Department of Conservation on Great Barrier Island, both driven by economics and sustainability. Other firms are investigating following suit to capitalise on the green imagery (and electricity back-up potential) now possible through the convergence of technologies.
Mackenzie enthuses the potential market is huge. Dairy farmers could put solar panels on their milking sheds to avert the risk to their 24/7 businesses from the kind of power failures that occur due to NZ's variable weather patterns.
The technology could also be used as "insurance" in areas subject to earthquake risk like Wellington so householders and businesses have battery backup for at least a short period if power lines are out.
What has made all this possible is the way Asia has leap-frogged Western thinking and made huge technological advances Vector has been quick to capitalise on. Mackenzie explains the advanced batteries allow significant electricity capacity to be stored for consumers to use when required rather than spilling excess power generated from solar panels back into the grid.
"It allows that energy to be smoothed, and from a cost perspective it can defer network upgrades," says Mackenzie. "Because you're flattening the profile without the peaks."
The at-the-home technology is matched at network levels with control function technologies utilising cloud computing which enable Vector to manage the optimisation of the energy when it is most useful to the customer and to ensure it balances with the network's demands. "They are now seen as critical network devices because of multiple flows from a network perspective," he says.
The cost of solar panels used to be prohibitive for some aspiring customers. But Mackenzie says they "are now a commodity". Trina, which supplies the panels out of China, have also developed installation systems that make it slick and quick to install.
"With battery solutions we are integrating and now Australian commentators talk about why is this not being thought of in Australia."
Because the company has not had Government subsidies it has had to look hard at the economics in conjunction with managing risk.
Mackenzie cautions that when artificial incentives are used to spur uptake, a lot of people haven't foreseen the requirement for upgrades to the network "because when no one is at home there are huge amounts of energy generated and pushed back out on to a network it is not designed for".
Mackenzie says from a systems network perspective "you have a network that can accept or send energy to and from the house with batteries that have chemistry you will want to optimise, and car batteries in electric vehicles that will also need to be optimised."
The new technologies have implications for future-proofing Auckland. "We do not want to bury dumb capital in the ground that is going to put a financial burden on customers in the future - there is only one wallet in Auckland," says Mackenzie.
"When we look at the magnitude of the other infrastructure builds in Auckland we have to mindful of how much people can afford. When discussing with the council the city's transport, energy and telecommunications needs, with convergence a lot of these can be bought together with co-ordination and cost management."
Technology entrepreneur Peter Maire has joined Vector's team to stay ahead of the game in the fast-change solar space. "He is immersing himself in technologies from other industries and making connections in America and Asia," says Mackenzie.
The big question is how can Vector adopt and connect rapid developments in Asia - where, for instance, one manufacturer has 30,000 staff working on lithium ion batteries - to its own business? Mackenzie says New Zealand is still seen as a market leader because of the nature of infrastructure ownership and the ability to test technology within a small market, citing Vodafone NZ 's smart metering technology which became a global case study.
"How do we think smart and how do we adopt the technology from a customer point of view?" Mackenzie asks. "The New Zealand branding is important as people want to come and live in a clean, green environment."
Offshore potential
It's not surprising Vector has come to the attention of the Australian market where other networks are "astonished" at what it is doing with solar. "Infrastructure is getting a major makeover by technology," says Mackenzie. "Leading the technology and asset management is the offshore opportunity."