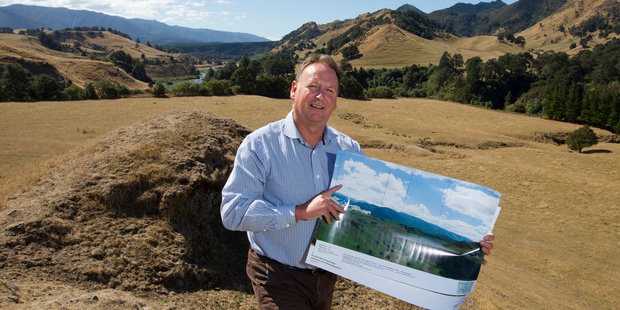 Andrew Newman is remarkably relaxed about recent coverage in national media highlighting the risk to the central Hawkes Bay town of Waipawa if the dam his company is backing fails in an earthquake.
A fresh airing was given to a report by the regional council which pointed out a collapse in the Ruataniwha Water Storage Scheme's 83m dam would potentially wipe out half of the town of 2000 people. The dam is to be built on the Mohaka fault line.
Newman, who is chief executive of the council-owned Hawkes Bay Regional Investment Company which will take a cornerstone $80m stake in the scheme, says the report "just reinforces that none of this is easy. If it was it would have been done years ago," he says phlegmatically.
Seismic issues, however, have added cost to the scheme which aims to irrigate up to 30,000ha west of Waipukurau.
"It's always been around $230 million. We had three or four months when we weren't dealing with too many geo-tech issues when we thought we were going to do it more cheaply."
The Ruataniwha scheme is a rare bird among New Zealand's big regional irrigation schemes.
It will be built as a public-private partnership which will revert back to full council ownership after 70 years.
Newman says retaining public sector involvement means the scheme will be more likely to stick to environmental targets such as boosting minimum flows in the Tukituki River than if it was wholly privately owned.
The dam will be the largest to be considered by planning authorities since the introduction of the Resource Management Act in 1991.
Because of its size and the council's interest in the dam applications for resource consents were called in by Government ministers in May and will be considered by a board appointed by the Environmental Protection Authority.
A decision is expected early next year by which time farmer demand for water should be fully ascertained and a call will be made whether to proceed to capital-raising.