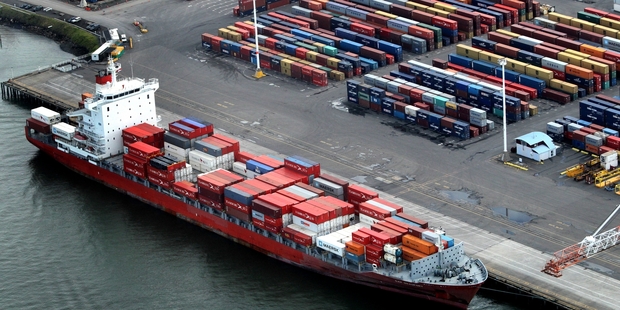 Cutting back the number of New Zealand ports is a topic that surfaces from time to time, but it's not one the Port of Tauranga buys into.
Rather than fewer ports, the company favours a two-tier system, with the smaller players interacting with the bigger ports - such as Tauranga.
Port of Tauranga acting chief executive Sara Lunam said the company's two-tier philosophy was behind its $21.6 million purchase of a 50 per cent stake in Timaru's PrimePort this week.
There are 16 ports in New Zealand - 11 of which have at least some container trade - but the big four represent the lion's share.
The Port of Tauranga and Ports of Auckland together account for 60 per cent - or 1.65 million teu (20 foot equivalent units) - of the container trade a year.
Only 22,000 teu went through PrimePort - small in the scheme of things and unlikely to make a big difference to Port of Tauranga's bottom line in the short-term.
But the company is in the habit of making good long-term calls and PrimePort could be another example of that, said Shane Solly, portfolio manager at Mint Asset Management.
"The Port of Tauranga board and management team are very canny strategic thinkers and good managers of assets," he said.
Lunam said PrimePort does not need to spend big money to develop. "It operates successfully as it is, and to take the cargo from the hinterland and tranship it to Port of Tauranga makes sense," she said.
Port of Tauranga has spent $100 million over the past two years extending its container terminal and on two new cranes. Over the next two years, it expects to spend another $100 million on deepening the port's shipping channel to take bigger ships.
"It's very expensive for big ships to come to New Zealand and what we need to do is to aggregate cargo to one or two ports to attract them," Lunam said.
Ships have got bigger and competition has changed routes for them.
When the company started its container business 20 years ago, it could handle 1400 teu capacity ships.
Today, the average size is 2700 teu ships but the port can handle 4500 teu ships. This week, a 5500 teu ship arrived at the port.
The dredging programme is in anticipation of the kind of ships that will visit in the future - 6500 to 7000 teu.
Ships are also getting wider, requiring cranes to take ships that are 18 containers wide from the current 16.
"Our view is that the secondary ports, or the feeder ports, are needed," Lunam said. "They will support the other ports that can afford to expand by becoming big-ship-capable."
Shares in Port of Tauranga closed up 20c yesterday at $14.70.APNZ
- APNZ