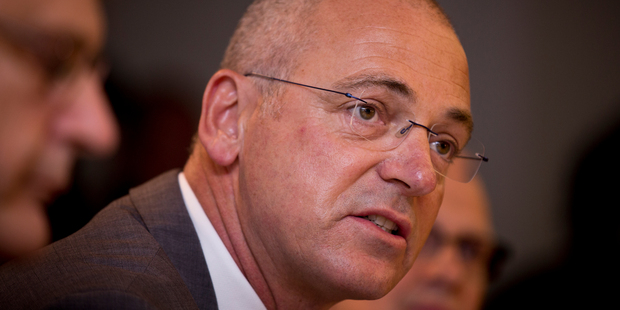 I went down to the apology.
"Who's sorry now?" I asked the black-suited bloke beside me.
"The milk man," the bloke said.
"Is he crying?"
"Yeah, beautifully-executed," the bloke said.
"What do you mean?"
In front of us a black-suited, executive-looking woman turned around angrily.
"Do you mind," she hissed, "I'm trying to listen."
"I'm sorry," the man said, "aren't you in PR?"
She quickly spun back forward-facing but not before I noticed the tear tracking down her cheek, cutting a deep channel through the foundation.
"Let's go somewhere we can talk," the man said.
We moved to the back of the stifling room, away from the TV cameras and microphones, finding a small space by the coffee urn.
"Do you take milk?" I asked.
"Not any more," the bloke said.
"So what did you mean by 'beautifully-executed'?"
"Well," the bloke leaned in, "I designed this apology and he's following the script exactly."
He handed me a business card:
Colin O'Collins
Chief Apologist
Sorricorp
His job, Colin explained, was to "structure the sincerity" of public apologies; writing the words, gesture and verbal expression training, ensuring family 'buy in' and down to such mundane details as selecting the lipstick colour of a 'stand-by-her-man' wife for press conference duties.
"Sincerity doesn't come naturally to most of my clients," he told me.
Typically, Sorricorp dealt with high-profile individuals from a range of industries: celebrities from the entertainment world; politicians; sports stars ("we get a lot of repeat business from league"); and, as in the current drama, corporate bigwigs.
"It might be an affair - it's usually an affair - or it could be porno-related or racist/sexist comments or industrial mishaps or even something like an inappropriate 'tweet'... whatever, we work out the most effective apology strategy," Colin said.
I asked how he got in the game.
"I used to be a Catholic priest so it was a good fit for me really," Colin said.
Unashamedly, he told me the idea came to him after he was defrocked (for reasons I have yet to get to the bottom of).
"I didn't really feel comfortable about getting back in the confessional but I wanted to express my sorrow publicly - wipe the slate clean, so to speak," Colin said. "I realised, though, I didn't know how and there was no one able to help me - out of that I found my calling."
I asked him if he missed the institutional comforts of the church now he had entered entrepreneurial life.
"Not really, compared to the non-profit world, the private sector is so much more... profitable," Colin said.
Just how much more profitable I found out later via a study titled A' sorry state of affairs: the global apology business report 2013'. According to the study, the apology industry, which traces its modern roots to the 1998 Bill Clinton 'Lewinsky statement', is worth US$3 billion plus annually and has experienced year-on-year growth over the last decade of more than 100 per cent.
Colin told me his dream was to take the business "retail".
"You know, the non-celebrity world: families, workplaces, local government, school trustee boards and so on," he said. "The way I see it, everybody has got something to apologise for."
Back on stage the milk apology was drawing to its teary conclusion.
"I deeply regret any hurt this incident may have caused," the milk man said.
Colin whispered to me: "Here comes the 'close out'."
"I hope this statement brings closure," the milk man said. "The last couple of weeks have placed an enormous strain on myself and my family and I'd like to take some time to rebuild balance in my life. I'm sure you all will respect my privacy.
"Thank you. I won't be taking further questions."
Colin quickly ushered me into the corridor.
Bailing me up against a wall, he said: "Look, David, you might've guessed that I know who you are - I've seen the court photos, I've read the liquidator's report... You will call me, won't you... when the time comes?"
"Absolutely," I said, a lie that I deeply regretted making as soon as the words left my mouth.