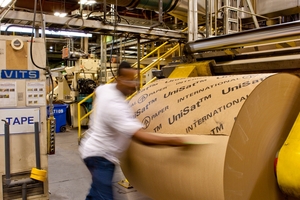 When Fletcher Building paid around $1 billion for Formica in 2007, the business was only three years out of a financial hole and Chapter 11 bankruptcy.
But on Thursday night, the North American arm of the century-old international business was shortlisted for an American Chamber of Commerce investor of the year award presented in Auckland.
American billionaire Bill Foley's Foley Family Wines won that category and his New Zealand chief, Mark Turnbull accepted the award on the firm's behalf, talking about expansion of the business and its presence here.
Mussel business Greenshell New Zealand won the supreme award.
Fletcher executives said afterwards they were pleased to be considered for the award.
The iconic panel and laminate business Formica was in Chapter 11 in 2004 and Gerry Bollman, Fletchers' chief executive of business strategy and performance, described that financial trouble as sparking a massive change at Formica in the United States and Canada where it has manufacturing plants.
Bollman praised the Fletcher board for having the patience and vision to see through changes implemented back in 2008, a year after Fletcher bought Formica.
"I used to say there was no silver bullet," Bollman said of a multi-pronged strategy to fundamentally change the business.
Formica Group contributed $71 million in operating earnings, before restructuring and impairment charges, to Fletcher's Laminates and Panels division in the 2012 financial year, with its Laminex business contributing $68 million.
This makes Laminates and Panels one of the larger divisions of the Penrose-headquartered corporate - New Zealand's largest listed business.
Bollman said the decision to change Formica was made around the same time as the global financial crisis struck, creating an extremely challenging situation.
"So it was that sort of one-two punch we were facing," he said.
British-born Mark Adamson, now Fletcher chief executive, headed Formica when the big changes were made.
"We focused on reducing costs," Bollman said and those fell 50 per cent since 2008, "and upgrading capacity in manufacturing the supply as well as investing in new plant, primarily in Ohio."
Around $70 million was spent on the US and Canadian plant but the bulk of that was in the US at Ohio.
"That's where the problems were and that's where we put most of the investment," Bollman said.
New products launched included texture-coated laminates, made to look and feel like stone and granite as well as thicker and much larger laminates.
Equipment effectiveness increased and the amount of product produced per hour has risen by 50 per cent.
The time taken to serve customers in the made-to-order or bespoke products area more than halved.
Formica has plants at Evendale, Ohio and in St-Jean-sur-Richelieu, Quebec, in Canada, and employs about 900 people in North America, although it has offices around the world.